Trackhunter's pick of the releases for December 2017
Wednesday, December 13, 2017
by Tat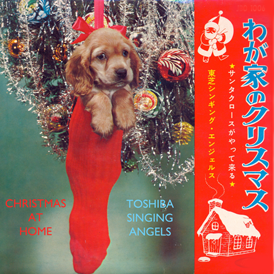 With Christmas just over a week away we thought it would be good to revive the podcast and dig into some of December's finest releases. Great music can be a little thin on the ground with the lead up to the biggest week of the year for many as labels and artists prepare for 2018. A lot of new releases are compilations, or novelty themed, but we have looked at what Bleep could offer up for us this month and were not disappointed. You can listen to the podcast and previous ones right here: http://www.trackhunter.co.uk/podcast Also, before the year is out we will take a look back at the previous 12 months and chose some of the best tracks as picked by the various platforms that Trackhunter currently trawls so you don't have to. Here are ten releases that caught our eye from the last week or so that we found using Trackhunter on Bleep.com.
Toshiba Singing Angels - Christmas At Home With The Toshiba Singing Angels - Trunk Records - WAV/FLAC/MP3
The home of exotic releases brings about one of the best collections for this time of the year. Odd, joyful and wildly innocent, this is a Christmas album of kids, presumably from Japan, delivering all those winter favourites. Rudolph The Red Nosed Reindeer, Jingle Bells and O Christmas Tree are just a selection of the 11 classics to play as you joyfully cook your Christmas dinner.
bleep.com/release/92725-toshiba-singing-angels
Neil Landstrumm - A Death, A Mexican And a Mormon - CPU Recordings Vinyl/WAV/FLAC/MP3
The curiously titled EP 'A Death, a Mexican and a Mormon' kicks off with a respectful nod back to South Yorkshire's bleep and rave heritage. Tomorrow People merges the classic Phuture acid house track Spank Spank alongside fuzzy deep bass lines with the seminal Asterix and Space warning to 'Watch your Bassbins' sampled throughout. The high class low frequency techno rave manoeuvres continue with Chrome and Ferric, a track that has an infectious dub rhythm track lurking in the background giving it momentum reminiscent of London dub techno pioneers Bandulu. There is no stopping electro champions CPU Recordings as techno stalwart Landstrumm is the latest notable artist to drop a four track EP for the Sheffield based label. In what has been a highly productive year, his latest release is as good as anything that he has released in that time.
bleep.com/release/90920-neil-landstrumm-a-death-a-mexican-and-a-mormon
Brendon Moeller - Magic City EP - Echocord Colour - Vinyl/WAV/FLAC/MP3
An ep of four immersive dub techno tracks from over The Pond in New York by the productive Brendon Moeller. This is quality sounds with plenty of shuffle and momentum among the cold metallic stabs and soundscapes. The foursome kicks off with the well produced and classic dub techno sound with Caravan. Magic City is a very deep, heavy workout whilst the Magic City in Dub really gets stripped down before Departure and its abstract sound finishes off a well polished ep.
bleep.com/release/92209-brendon-moeller-magic-city-ep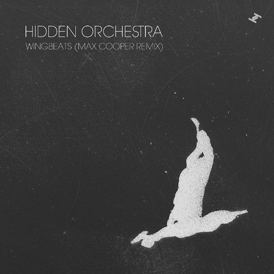 Hidden Orchestra - Wingbeats (Max Cooper Remix) - Tru Thoughts - WAV/FLAC/MP3
Sadly only on digital release at present, but hopefully a physical release will follow. This is a beautiful reworking of Hidden Orchestra's 2016 release on the excellent Brighton label, with Max Cooper on remix duties. The main remix runs at just over 10 minutes and is worth every moment as the track builds, twists and turns, creating a wonderfully atmospheric scene. Tru Thoughts have always put out music that sits just as well in the home as it does in a bar or club, this just works well wherever you may be.
bleep.com/release/93520-hidden-orchestra-wingbeats
Adult - Detroit House Guests: The Remixes - Mute - Vinyl/WAV/FLAC/MP3
Detroit's Adult have never been ones to mess about and with a plethora of releases under their belt, they are highly respected on the electronic music scene. This latest offering sees tracks from their 2017 album Detroit House Guests given a workover by Silent Servant/Juan Mendez, Shannon Funchess and LIARS. This is their first single release in a while and takes the listener on a hard journey through a multitude of mashed up styles.
bleep.com/release/92450-adult-detroit-house-guests-the-remixes
Nightmares on Wax - Citizen Kane - Warp - Vinyl/WAV/FLAC/MP3
Warp's favourite son once again shows he is multi-talented and can turn his hand to pretty much any style he wants and carry it off expertly. This time he ventures in gospel-based US House territory with a superb uptempo sermon overseen by Chicago legend Ron Trent and his Night Dubbin Remix. The rap version is more laid back with a cheeky rap by Allan Kingdom and soulful vocals by Mozez throughout.
bleep.com/release/92181-nightmares-on-wax-citizen-kane
Simo Cell - Pour Le Club! - Livity Sound - Vinyl/WAV/FLAC/MP3
Fresh from the parisian streets, Simo Cell delivers some mighty fresh bass-heavy house and breaks designed for the most intense sound systems. Feel Di Kouala Vybz is a cross between techno, drum and bass and rave and well worth a listen. Stop The Killing grows perfectly and feels like something Leftfield would have released at their height of fame.
bleep.com/release/92144-simo-cell-pour-le-club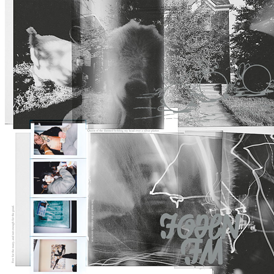 John FM - Ricochet/...And Then Leave - The Trilogy Tapes - Vinyl/WAV/FLAC/MP3
Superb double header with really lovely collaged artwork that kicks off with Ricochet which is a stuttering, builder of a house techno track with relentless, clattering drums and melodies. ...And Then Leave is the standout track as it takes us back to the golden rave era but with a modern four on the floor, highly polished flow. The tension builds and builds whilst atmospheric strings help the track reach its perfect climax.
bleep.com/release/91864-john-fm-ricochet-and-then-leave
Various Artists - Juju And Jordash - Dekmantal - WAV/FLAC/MP3
Dekmantal's 10th birthday is marked by the release of materials from their vault with a 10 track digital album. Juju and Jordash's earliest works are on show here with deep house, techno and other abstract sounds making a welcome reappearance. Jazzy Trance is the standout track as bubbling acid, saxophone and tribal beats combine together for cosmic effect.
bleep.com/release/92744-various-artists-juju-jordash
TR ONE - A Month Has Passed - Don't Be Afraid - Vinyl/WAV/FLAC/MP3
The title track of this four piece ep is a gorgeous deep techno tune with cold overtones, interspersed with erratic percussion that all combines to make a really good builder. Like a thick fog, this release never stops revealing fresh, subtle parts of its audio landscape. Well worth adding to your collection.
bleep.com/release/90599-tr-one-a-month-has-passed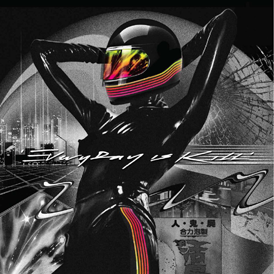 Deadly Avenger - Everyday Is Kill - Death Waltz Recording Company - Vinyl/WAV/FLAC/MP3
I've always been a fan of Damon Baxter's releases under his Deadly Avenger guise and this latest LP is no let down. His first new outing in a couple of years and welcome addition to his previous six long players. This has everything you'd expect from Baxter, atmospherics, epic strings, dirty beats and an ability to stir emotions with his compositions. Limited to 500 copies, so if you buy and album this month, but this one.
bleep.com/release/92267-deadly-avenger-everyday-is-kill
Get those Christmas tracks with Trackhunter
Got some thoughts on this post? Share them in the comments below