Trackhunter's Selections from Record Store Day 2017
Wednesday, April 5, 2017
by Tat

Record Store Day 2017 will soon be upon us on the 22nd of April. It is a decade since the global event started in the United States in an attempt to help struggling independent record stores and labels promote their products and inject much needed funds to an industry in decline. Over those last ten years record sales have continued to grow year on year, record shops (we're in the UK, so call them shops) have returned to the high street selling new vinyl. In my hometown there are now two independent record shops that stock new vinyl, something that looked unlikely five years ago when the last one finally closed after an epic 100 year stint.
Is Record Store Day still about the independents?
Detractors of Record Store Day have been more critical in recent years, especially as this was set up to promote and support independent record labels and shops. Many feel that the major labels, who mostly gave up on vinyl years ago for CDs and digital music services, have returned now there is some kind of groundswell of popularity. Some independents have complained that access to the limited record pressing plants (of which the number has not grown in the last decade bar bespoke, small dubplate pressing businesses doing very small runs) has been restricted now that the bigger boys have got back into action. The increase in vinyl releases, especially re-issues for such as Record Store Day has meant small independents have to plan even earlier in advance to make sure they get their releases out alongside the major labels.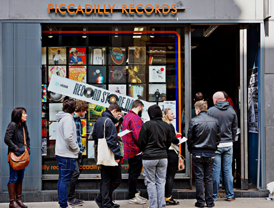 Man Alive! CC BY 2.0 http://bit.ly/2oS2jWJ
Record shop as a creative hub
Despite all this, Record Store Day does create a lot of attention for artists, labels and record shops. Many of the shops use it as a platform to connect with new and old customers, and take us back to a time when many of these shops were community hubs for DJs, producers, musicians and fans. It also shows the resilience of those record shops that continued to stay open and serve their community, many of which will have seen fallow days and had too many phone calls to the bank for an extension for their loans. Most of those who have survived are run by knowledgeable, friendly and polite staff who are often running their business purely through a strong passion to share music than a desire to be rich. So many record shops went under through sheer arrogance and created an anxiety for many who would go in fearful that they would feel shamed for not knowing the latest Moodyman release.
Whether the demand for vinyl will continue at this pace no one knows, it looks like sales of vinyl may start to plateau as the majority of buyers are middle aged and have stayed loyal to vinyl despite its decline. There are plenty of young record buyers, the question will be whether they will retain that same loyalty and passion. Whilst Rega are to release a turntable to celebrate this year's Record Store Day. The limited edition turntable is based on their award winning RP3 and will be limited to just 500 units. The turntable will retail at £250, and will come in handy for some of the new generation record buyers who allegedly in one report claimed that some didn't own a player for their record collection, despite buying more vinyl. Whatever happens, I'll still keep buying the vinyl and will also continue to support digital, it's the best of both worlds. Anyway, here are some of the picks from this year's Record Store Day, both new and old.
Art of Noise - Moments in Love - Salvo Music
One of the most beautiful ambient records you will ever hear as this special edition release for Record Store Day revisits moments in the history of The Art of Noise. Coupling the 1985 single 'Moments In Love' with a remix of 'Time For Fear' which has previously never had a vinyl release. Additionally the creative direction for the release references two previous single releases – this being the complimentary release to the 1985 Tortoise shaped 'Moments In Love' 7" single and the masked cigar picture disc of 'Edited' from the same year.
BP Fallon & David Holmes - Henry McCullough (Andrew Weatherall Remixes) - Late Night Tales 12" Coloured splatter vinyl with reflective gold mirror sleeve
One of the best albums and tracks of 2016 in my opinion and it gets an Andrew Weatherall make over to hopefully take it to the next level. An incredible recollection of guitarist Henry McCullough's life as he played alongside Joe Cocker, Paul McCartney among other legends and all sounding like Primal Scream's classic 'Come Together'. A euphoric and Balearic killer of a track, and anything Weatherall can add will hopefully make it even better.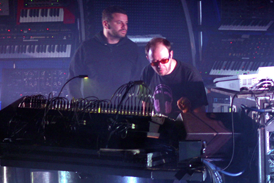 Alterna 2 CC BY 2.0 http://bit.ly/2ouQiug
The Chemical Brothers - C-H-E-M-I-C-A-L - Virgin EMI 7 inch
The Chemical Brothers release a rare 7 inch from their digital and CDR release of 2016. An electro, rap, acid house stormer of a track that bubbles along nicely, grab it while you can.
Dave Clarke - The Wolf/Way of Life (Remixes) - Skint Records 12 inch
Released as a 180gm heavyweight vinyl with brand new unheard mixes, the don of UK techno returns for Record Store Day. Detroit legends Octave One and Marcel Fengler are on remix duty, whilst Clarke returns in late 2017 with a new album, so lots to look forward to.
The Future Sound of London - Archived Environmental Views - Passion Music - FSOL Digital - 12 inch, 3 LP
This Triple album brings together the two main strands of FSOL's current output, namely the "From the Archives" series and the "Environments" albums. Comprising a total 48 tracks, 35 of them are new or previously unreleased.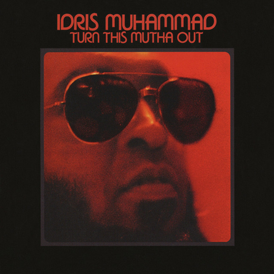 Idris Muhammad - Could Heaven Ever be Like This/Tasty Cakes/Turn this Mutha out - Columbia/Sony 12 inch
Three sublime tracks set for re-release with the heavenly (excuse the pun) 'Could Heaven Ever be Like This', a true disco classic that still sounds awesome on a loud sound system.
K'Alexi Shelby Featuring Robert Owens - Downtown (Mike Dunn, Anthony K, Anthony Nicholson Remixes) - K Klassik - 12 inch Blood red vinyl
Two house music legends come together for Record Store Day to release on blood red vinyl, and what's better, that Mike Dunn gets to do remix duties. Really, what's not to like?
Krome & Time - This Sound is for the Underground - Suburban Base Records - 12 inch
Released in celebration of Sub Bass founding a quarter of a century ago (where has that time gone) The legendary drum & bass label has chosen one key title for the first five years of the label to reissue a vinyl release for Record Store Day 2017 on clear vinyl. This one has not been available on vinyl since the 90s with this selection from 1992.
RAM Trilogy - RAM Trilogy Chapters 1 to 6 RAM Records - LP Box Set
More drum & bass from another seminal label who deliver a special box set, the Trilogy Chapters one to six (produced by Andy C, Shimon & Ant Miles) brought together in a bespoke set. It will also include a set of custom, one off slip mats.
Rodney P - Untitled - Dinked 7 Inch
One of the UK's finest, veteran rappers releases a special 7 inch for Record Store Day. This track was the title track for the superb BBC4 documentary "Hip Hop World News" which was hosted by Rodney in 2016.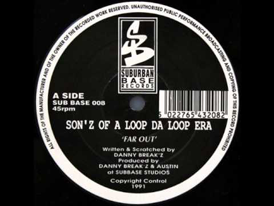 Sonz Of A Loop Da Loop Era - Far Out - Suburban Base Records 12 inch
Another re-release of a rave classic from the Sub Base label on clear vinyl, still fresh 25 years on.
Various Artists - Salsoul ReEdits Series One: Dimitri From Paris Salsoul - 2 x 12 inch
Part one of a new Salsoul Re-edits series launches with four reworks from disco aficionado DimitrI From Paris. Available on vinyl for the very first time, Dimitri adds his deft remix touch to Salsoul favourites from Loleatta Holloway, Inner Life, Love Committee and Skyy.
Various Artists - Salsoul ReEdits Series Two: Danny Krivit Salsoul 2 x 12 inch
The second part of the Salsoul Re-edits series launches with four classic edits for Record Store Day from seminal edit king Danny Krivit. With over 45 years behind the turntables, if anyone knows what little extra touch a record needs to work on the dancefloor…it's Danny!
Wherever you go to track down some fresh vinyl for Record Store, we hope you have a great time in supporting the stores and the artists, and with about 500 releases set to drop for 22nd April we hope you find something you enjoy.
Discover great digital music with Trackhunter
Got some thoughts on this post? Share them in the comments below