The Second Summer of Love - Five key things that shaped the scene
Monday, July 9, 2018
by Tat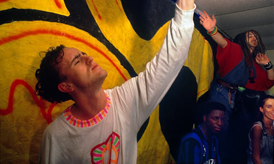 For anyone 45 years old and above it is incredible to think that 2018 marks the 30th anniversary of the Second Summer of Love. In 1988 the UK was taken over by a foreign invasion that originated in the United States underpinned by a bit of music kit produced by Roland that was cast off following its launch seven years earlier. The Second Summer of Love was an incredible movement that started from the ground up and it was so monumental that it lead to Government legislation and thousands of arrests; such was the desire for the youth to enjoy this fresh sound. Rather than deliver yet another chronological history of Acid House and the birth of Rave culture, as there have been countless documentaries, books and essays on the topic, we thought we would pick out five of the most iconic artefacts from that era. As the UK and other parts of the globe go through an incredibly long period of hot weather, it should seem fitting we cast our eyes back to a time when the nights were much, much hotter than the days in more than a few ways.
The Club - Shoom
There are several clubs that we could mention as being instrumental to the explosion of Acid House but Shoom is one of the true innovator nights. Started by Danny Rampling in a gym called the Fitness Centre on Southwark Street in London and born after a visit to the White Isle in 1987. Rampling had gone out to Ibiza for his friend's birthday with Nicky Holloway and Johnny Walker, with that friend in question being Paul Oakenfold. Rampling was inspired by his visit to an open air club, which turned out to be Amnesia. Upon being there he heard a mixture of different sounds from punk to techno. The discovery of the Balearic sounds resulted in an epiphany for the young Rampling who decided he would start his own club on returning to the UK. He took the energy he came across in Ibiza and transplanted it into the heart of London club culture which at the time was stagnating and in need of adrenalin. Shoom soon made national news with bright colours, flavoured smoke and the infamous smiley face and in turn helped inspire a new generation of Acid House and Rave nights.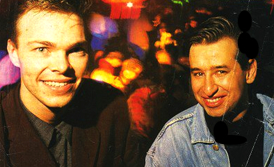 The DJ - Nicky Holloway
Nicky Holloway was one of the Ibiza Four who took that journey alongside Rampling and was to return to start his own Acid House night called The Trip. Holloway was no stranger to DJing and had started out several years earlier playing pubs around the Old Kent Road area. Holloway stepped up a gear in 1984 running club nights such as Special Branch and Doo's At The Zoo in the company of Gilles Peterson and Pete Tong. His trip to Ibiza in 1987 proved to be a pivotal point as it resulted in The Trip hosted at the West End's Astoria nightclub. Sadly Holloway was diagnosed with Prostate Cancer in 2017 and after falling upon harder times has had to rely on the support of friends and fans to help fund a special treatment over in the Czech Republic. You can donate to Nicky's treatment here: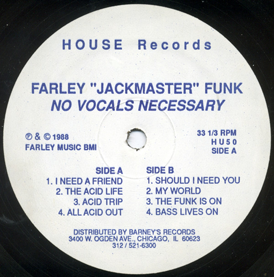 The Record - Farley 'Jackmaster' Funk - The Acid Life
Seriously where do we start in trying to pick a record from 1988? It really is a case of personal taste as everyone has their own ideas of what tracks sum up the Second Summer of Love. There are countless tracks from the big hitting producers of Fingers Inc, Phuture and DJ Pierre from that period, but we think Farley 'Jackmaster' Funk's secret weapon has stood the test of time and is worthy of mention in this list. By 1988 Farley Keith Williams had released almost a dozen records for the house music stalwarts Trax, House and DJ International Records. He had received international success with the anthemic 'Love Can't Turn Around' in 1986. Two years later he dropped his solitary long player under his name titled 'No Vocals Necessary' on House Records. Among the eight tracks 'The Acid Life' blasts through loud and clear. Starting with high hats and a deep, fat bassline sound, which was later sampled by Technotronic and 'Pump up the Jam'. The track starts at a pedestrian pace before opening out into hardcore acid house mayhem. The bassline becomes more incessant along with the driving 909 drums to deliver one of the great warehouse party tracks ever. Menacing and unforgiving, the track still stands the test of time really well and was a polar opposite of Funk's more commercial house outings of that period.
discogs.com/Farley-Jackmaster-Funk-No-Vocals-Necessary/master/40305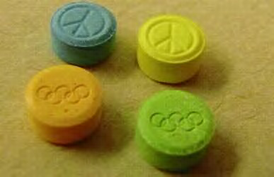 CC BY 2.0 Chris Breikss
The Drug - Ecstasy
Dance music scenes have always had some association with illicit drugs and if ever one particular movement was in sync with a substance then it was acid house and ecstasy. Bizarrely it was much less about acid tabs and LSD but focused on the little round Es which were referenced in multiple post acid house, rave tracks. The drug was a huge part of the scene and was a large part of acid house appeal. It was so alluring that it brought a period of unity for some of football's greatest enemies as hooligans from different firms came together to dance. For a while violence on the terraces died down as 'loved up' hooligans raised their hands to dance rather than fight. The drug remains highly controversial as it lead to several deaths and was the driving factor in the demise of the illegal rave scene. Once young people started dying at all night parties, it was only a matter of time before the entire dance scene became demonised and the focus of the media and the Government.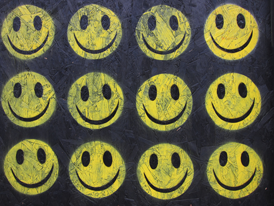 CC BY 2.0 Bob Bob
The Icon - The smiley face
Despite being synonymous with acid house, the infamous yellow smiley face had first appeared a quarter of a century earlier. Designed by Harvey Ball in 1963 it was picked up by numerous advertising campaigns before psychedelic culture grabbed it for their own in the early 1970s. It eventually found a new home as those under the acid house banner took it as their own symbol of allegiance. Danny Rampling and his Shoom night were one of the biggest fans to adopt the smiley as part of their own imprint. It has since gone on to greater things within popular culture and is shared millions of times a day as that tiny little emoji sign off in instant messages and social media. The most astounding fact about the original smiley face designed by Ball was that he was paid $45 to design it - it took him just ten minutes. Incredibly neither Ball or the company he was working for at the time thought to copyright the iconic image.
Viva Acid House
Acid house brought us so much more than these five artefacts and whilst Ecstasy will remain a controversial inclusion, it is no doubt instrumental in the development of the scene. Trackhunter in no way condones its use, past, present or future but we do appreciate without it the scene would have been incredibly different. The DJs who started the scene are still hugely influential in the scene and we want to wish Nicky Holloway all of the very best in his treatment. Holloway, like Rampling and a select few helped create the most exciting youth movement of the late 1980s and early 1990s. Acid House was rebellious, joyous and hugely inventive, from the fashion to the music, it shaped how dance music sounds today and in the future. Viva Acid House.
Create your own summer of love with music found with Trackhunter
Got some thoughts on this post? Share them in the comments below