Interview with Richard Hardcastle aka Solid State
Wednesday, March 13, 2019
by Tat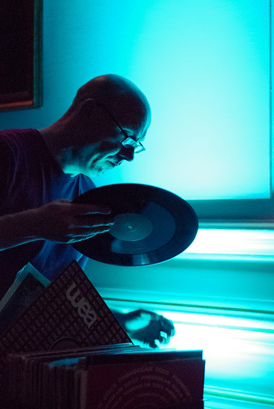 Entering his fourth decade of DJing, Richard hardcastle AKA Solid State is one of the UK's finest house music and disco selectors. An avid collector of vinyl whose tastes cross over from Krautrock to post punk, from disco to soulful house, he knows all about curating and building sublime sets. His passion to play out to crowds has not diminished one bit in those 30 or so years which has recently included playing a classic disco set at Spiritland to accompany a screening of the Studio 54 film. He can be seen most weeks playing some of Sheffield's hot spots such as Hope Works and the Southbank Warehouse. Hardcastle cut his teeth whilst as a young teenager in the early 1980s playing guitar in bands inspired by Sheffield's thriving music scene. Before long he was bitten by the DJ bug and took to the clubs and pirate airwaves establishing himself as a regular fixture of the house and revitalised disco movement. A return to music making was always on the cards as he's produced his own music under the alias of Solid State for such as Toko Records and his own imprint All Out War.
What got you into DJing and who were your main influences to get up and play behind the decks?
Good DJs and bad DJs made me do it… In the 80s when I started going out, there was a lot of crowd pressure on DJs and there were some records which apparently just 'had' to be played, to avoid a lynching - some happily bowed to the pressure. The ones who didn't were fewer and further between, the main ones being Winston Hazel, Parrot and Graeme Park and I also recall a few less well-known figures like with daft names like Ping Pong (Carl Munson) and Yum Yum (Paul Richards). They all played the same nights in Sheffield, at one time or another. When I first started DJing and before I began to find my own style, the aim was to sound like these DJs. That mix of house, hip hop and street soul, with funk, electro and a smattering of disco. That was the dream.
You've been in various bands and projects and still produce music, how important is that to your DJing and visa versa?
I started playing around, making electronic music in 1984 and I'm sure it's had a symbiotic relationship with DJing. I try to apply what I learned from all those great records to my own productions. I'm yet to make a 'classic' dance record, but I'm deluded enough to think I might still have one in me! For my current efforts, I'm inflicting a draconian 'no-sampling' rule on myself, so wish me luck.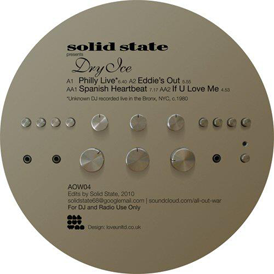 You've been DJing for 30 years now, over that period of time what has been the most important lessons you've learnt?
Like most DJs, I've played in some less-than-ideal situations and I think I've become a better DJ for it. Bar jobs, student nights, weddings - they can be a proper nightmare but they are great training – not least in the study of human behaviour. Clubs are a walk in the park next to those gigs. Another lesson learned is to give crowds more credit - they are probably way more open minded than you think. They might leave the dancefloor in biblical droves if you drop a clanger, but they'll be back in a flash if the next record is the right one. It's all part of learning, which never stops because each situation is unique. I really like it when a record clears the floor initially, but you stick with it and ends up in a mad rush to get back on. PROMOTERS: this is a purely hypothetical situation that has never happened in real life, honest.
Last year, you DJed for a special night at Spiritland in London as part of a cinematic evening in homage of Studio 54 with a screening of the documentary about the legendary club. How did that go?
That was a great night and a massive buzz to play on that system in a 'dancefloor' situation. As you know, Spiritland was primarily designed as a listening environment, like the Japanese audiophile cafes which inspired it. Once in a blue moon, they get a dancing license and I've been incredibly lucky because two of my three Spiritland gigs have fallen on these 'dancing' nights. I cut my teeth playing in nightclubs, so I'm at home when people are moving about. The ideas and the inspiration don't come as naturally when you take away that interaction. That night was epic! Some quite well known disco was played (it was a Studio 54 thing, after all!) but near the end I recall a few more obscure numbers like 'Bubble Sex' by The Seebach Band and the Mark 7 classic 'Only Music Survives' by Alba.
There are plenty of DJs still out there who have hit the half century milestone, what drives you to continue playing out?
I actually get grouchy and irritable if I haven't played records 'out' for a while. It's a bit like getting a fix of something I medically need. Sounds dramatic, I know.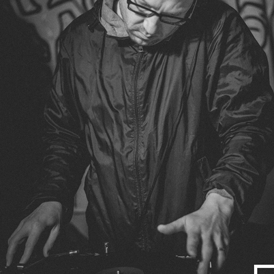 You have remained a vinyl DJ and a passionate record collector - why do you think we've seen a return to more labels pressing vinyl and is it sustainable given how many labels and releases there are?
Loads of labels seem to be churning out vinyl on the back of a perceived revival and many are probably backing a loser, as sales are actually down, for the most part according to my mates at the sharp end. The 'vinyl revival' is only really happening for major labels re-releasing old records for old people. Having said that, I'm sure it's true that more younger DJs are buying vinyl than a few years ago. Maybe it's a fad with some of them, but I admire that kind of commitment to not eating properly and wearing the same clothes for years on end - it's an expensive pastime.
There used to be a well-trodden apprenticeship route for disco DJs - you started with Prince, Chaka Khan and Odyssey and gradually progressed through the big Salsoul hits and ended up on the rare Prelude B-side dub mixes! Now it goes much deeper and so much more obscure, it's insane what's being made available on vinyl now. There are a lot of emperor's new clothes records being unearthed and reissued and you need to be careful what you get drawn in by, but it's a really exciting time to be buying.
Actually, if anything, my goal is now to embrace technology more. When you have a lot of records and limited time to play them out, the temptation is to play them to the exclusion of all the new digital promos I receive. Now I'm back doing radio shows, I need to address this imbalance, because the music itself should always be the most important thing, not the format. I don't have a hobby horse about playing 'vinyl only', it's just that I happen to play almost all vinyl - it was never as a 'thing', though!
What record never leaves your box?
Usually, mainstays are there for dancefloor emergencies. In the 80s and 90s I always carried things like 'Aint Nobody' 'Dancing In Outer Space', 'Street Life', 'Let No man Put Asunder' – the sure-fire dance floor savers that never seemed to grow old, as long as you dropped them sparingly. On the House tip, classic MAW and Murk records fulfilled a similar function.
Nowadays, many of these standards seem terminally played-out, but then every new generation rediscovers them as gateway records into the deeper realms. And now, the internet has created a weird situation where kids know some incredibly obscure tunes dropped by Hunee or whoever, without ever really knowing the old 'standards'. It's a new landscape – the old 'obvious tune' isn't necessarily 'obvious' any more. I've heard a set of tropical / African / highlife bangers interjected with 'Somebody Else's Guy' by Jocelyn Brown. Huh?!? As an oldster, you have to unlearn, re-learn, chill out and appreciate how ace that record must sound to fresh young ears! (Personally, I'd only play the instrumental B-side, if at all, ha ha…)
A record that springs to mind as a mainstay for me in more recent years is The Magi 'Clap Your Hands' on Guidance, It's by Derrick Carter and Chris Nazuka, sampling 'Uptown' by Prince and other elements. It has both disco and house on lockdown! On a 'pure disco' tip, 'Music Fever' by the Bombers is rarely far from the crate and has become a bit of a signature record for me over the past 10 years or so.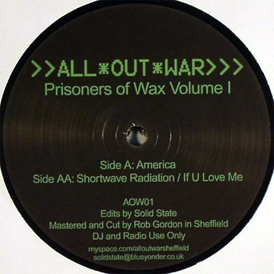 You were a resident on the legendary Sheffield pirate radio station Fantasy FM back in the 1990s. You're back on the airwaves in Sheffield on UK Mondo and Gumbo FM, tell us about the station and your decision to go back on the radio?
Well, the time felt right and then several opportunities came along at once. I'm on UK Mondo in Sheffield with 'The Mixbot', Dan J (as the Wizard, Mike O'Mara christened him). We call this duo Strobe Life, and the radio show falls on the second Thursday of the month, from 8-10 pm.
Me and Dan were both wanting to start a new radio show, so joining forces seemed like a no brainer. I also cover sometimes for the 'Hunie Presents…' radio show on UK Mondo. Their events are mega, I played at their Big Dogs Disco and at the Horsemeat Disco they hosted along with Dan J and crew.
Gumbo FM is run by Jason and Phil, aka Ron Superior and Mad Dog and it's a brilliant community-based station in Meersbrook, playing a wide variety of music with Winston as their star DJ. I have a rather irregular slot at the moment, but hopefully it will become more settled over time. Look out for their events at Bassbox, aka the old Boardwalk on Snig Hill!
I'm also playing on Emergency 99.9, the station run by Edzy from Bleep legends the Unique 3. There are loads of famous names on the station so it's pretty cool in that sense… it's all happening, I tell thee.
You play regularly at the Sheffield institution that is Hope Works, how important is that night to the city given it's long illustrious connection with electronic music?
Man, I love playing at Hope Works and its value to Sheffield is hard to overstate. Liam is really at the cutting edge in terms of his bookings, so it's amazing to have played even a small part in the overall picture he's put together over the past few years. The No Bounds festival has really pushed Sheffield forward as a destination for serious electronic music enthusiasts, while building on our own musical heritage, which I know Liam is very conscious of. He is a great ambassador for the city and Hope Works is the pinnacle, as far as Sheffield's musical innovation and exploration goes. It's definitely inspired others to have a go and do great work, too.
From the perspective of Sheffield, it's in a really good place right now, perhaps more than ever. So many solid DJs in Sheffield and an endless flow of high quality guests being booked in the city. It was definitely not like this ten years ago - and arguably never before that, either.
Production wise, what are you working on at the moment?
I recently did a remix of a track called 'Remnants' by the ace Sheffield band Speed for Lovers, which came out on Paper Disco's Trash The Wax #6 compilation last year. It's also coming out soon on Society Recs, along with the original version, which is killer. My next goal is to get a clubby EP ready for vinyl and I'm doing things the hard way - as I mentioned, no theft allowed… 'Original music or die trying', is my mantra. I have a decent double album's worth of material, but am too scared to play it to anyone, in case it's not the best thing they've ever heard.
Want to know more about Richard or Solid State?
discogs.com/artist/56007-Richard-Hardcastle
discogs.com/artist/56006-Solid-State-2
mixcloud.com/richardhardcastle1
Find the next music like Richard's first with Trackhunter
Got some thoughts on this post? Share them in the comments below