Interview with Jon Dasilva
Wednesday, December 18, 2019
by Tat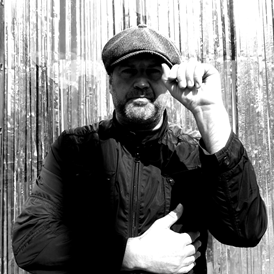 Jon Dasilva is one of the UK's most respected DJs, an innovator whose early forays into playing behind the decks were built on a sense of adventure, no boundaries and eclectic taste in music. His sets were enhanced by the use of stripped out vocals and sound effects along with a superb technical ability and track selection. Dasilva influenced a number of DJs, most notably a young Sasha whom he taught how to harmonically build sets. Still going strong 30 years on from residing at The Hacienda's Hot night, to more recently co-promoting and residing on the I Love Acid parties in Manchester. We started by talking about Dasilva's new release 'Music From The Endless Summer'.
It's good to see you back in the studio and the new release is a really strong four track EP, how did it come about?
Well, I've not really stopped working on tracks. There's a whole load in the making at the moment, for example some of which have been already signed at early demo stage. The tracks from the Music From The Endless Summer were all actually written in 2010 or there about, when I first moved to Stockholm. They were certainly not intended for an EP at the time and for some reason got swept under the carpet, probably because I was working on a band project at the time with some people from Stockholm.
There's a real Manchester feel about the record (not just with the track title Mancunian Sway) but the track Drones In The Key Of Chi which just feels utterly timeless as a piece of Northern House Music. You must have known you were onto a winner when you started working on that track?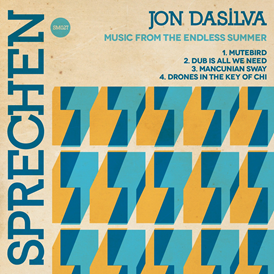 Well, yes I was excited about them all but then insecurity is a fucker and things do go awry! Drones in the Key of Chi refers to Chicago and of course I've had a long love affair with the music from that city. Manchester has a special relationship with Chi town going back decades to Northern Soul obviously but more pertinently the House scenes from the early to mid 80's onwards. There were always Northern ears for that sound. The sound of Drones has a brass arrangement that was as much to do with American minimalism and Jazz than House though. I do love a drone.
The new dub reworking of the Love Is All We Need (Dub) from 2011 has a real classic old school Chicago vibe is this a new production or is it a version from the original release on Hour House Is Your Rush Records?
I came across this a few years ago as a project after having completely forgotten about it! It was rejected as a mix by Rush Hour…there were a few! It's the best mix in my mind now, it's got the wonkiness and rawness I aim for.
Manchester and The Hacienda played a huge part in your career as a DJ, producer and remixer. Were your DJ skills and eclectic tastes already honed before arriving in the city?
I'm originally from Preston, but when I left London and the south after living down that way for six years or so my tastes were completely honed in terms of my sensibilities. I did a lot of digging in Manchester it has to be said, in Eastern Bloc, Decoy, Expansions and the few secondhand shops there were then. As for my DJ skills, well I only managed to get 1210's at home to practice on in 88. My good friend Francesca - who I shared a house with in Moss Side at the time - bought some. I got straight into doing New York style long mixing and practiced like a loon. Getting a residency at the Hacienda, literally 6 months later, was a shock and definitely threw me into the deep end!
Prior to Acid House and the subsequent years after, Manchester was a very different place from the rest of the country. Can you explain what made it so unique, not just musically but attitude wise?
My experience of the city goes back a way to my teens coming over from Preston for gigs and vinyl etc. It was a very different city to the one you find now. Grimey and run down, and yes Post Industrial. I was a big fan of Punk and Post Punk so Factory were very important and so were bands like Joy Division, A Certain Ratio, Durutti Column, Magazine, Buzzcocks, and later New Order were very significant influences (as was the NY scene of Television, Talking Heads, Disco and early Hip Hop etc). The Fall were one of my favourite bands and I met Mark E (Smith) quite early on when I was about 16. The feeling for me at the time was Manchester was disconnected from the music machinery of London Industry. It did things differently and did it for different reasons. It was a very specific Post Punk attitude to reverse the brain drain to London. In retrospect that could easily be said for Bob Last's label 'Fast Product' (Edinburgh) which I think was a blueprint for Factory, but that relied so much on bands from across the country (Human League / Gang of Four etc). Factory had everything on its doorstep, in some cases in the flat or house next door.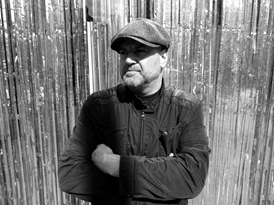 One of your earliest remix productions was the Balearic classic by New Fast Automatic Daffodils with Big. It's a very under-rated piece of music and has stood the test of time, what were the band's reaction to the new version?
I got so far into it and then decided to call them in to record new bass, conga and guitar parts for it. That's why, I guess, I asked for a production and writer credit on that and not a remix credit. That was a bad move as my name disappeared onto the label copy in small print and never did get any royalties as far as I can see! I doubt I registered it, knowing me. I do remember Derrick May saying it was one of the few tracks he heard in the UK in 1990 that he thought was out there, good. The Hip Hop kids liked it too, Irfan Rainy was into it at the time, he must have been 15.
You became renowned for pushing boundaries in your DJ sets by using A capellas, sound effects and dropping left field records that most DJs would be afraid to. How much of that was driven by your desire to educate a crowd to new sounds, test boundaries or that you knew you had the technical ability to take chances and pull them off?
I love found sound and sound effects, still use them in my sets and all over the place in my productions. It was an influence from Lee Scratch Perry and Larry Levan, no less, when it came to DJ sets. I love to up-the-tension of my sets with an apropos effect or drop. The a cappella thing just got lifted completely by other DJs and often without them getting they had to be in the right key! Mixing in key was intuitive for me and luckily and I didn't realise I was doing it until the guy from Swing Out Sister, Andy Connell, pointed it out sometime in the early 90's. I'm not so interested in perfect key matching these days, do like a little jarring sometimes as it can sound ace done right. Hip Hop style! There was a definite attitude of educating people and still is in terms of music, but you have to get the balance right. It's also about moving dance floors and that should never be forgotten (and yes I have at times to my shame!) I was pretty naive back then, green as grass, and would try stuff out fearlessly …well that Hacienda crowd was VERY forgiving!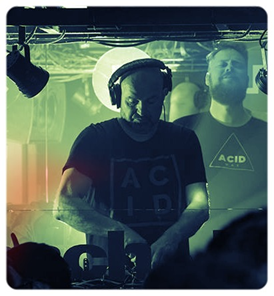 Do you think DJs should take more chances today given how much great music there is (new and uncovered) and that the technology makes it easier to drop samples and effects?
Yes. Next question. hahah…sorry. Well yes, god damn it. I feel lame standing there mixing when it only takes a few seconds to get things in time now. You can do so much more and without looking like a show off tit. Creatively it's never been a better time.
You've been DJing now for over 30 years and that's taken you a long way around the globe? What location has impressed you the most with regards to energy and creativity?
The early years of playing Berlin were pretty mad. That scene was just emerging, on the back of the Chicago/Detroit axis like Manchester but the attitude was very different in terms of how they partied, where and what to. I was there before the Wall went down and played soon afterwards, that year, they were remarkable times. Glasgow and Manchester are just great places to play and live in. So much great music coming from both cities. Spent a lot of time in China which can be a lot of fun when playing to local crowds. They party, or used to party very hard. Xi has put a stop to a lot of that now. Belgium was a big fave for years. Fuck the idea it's boring. Belgium is not boring!
You're very politically minded and given that Acid House happened at a time when people were politically motivated and increasingly tribal, do you think music will once again be a catalyst for political change as well as a pressure valve from all of the negative things going on right now?
Well I am, yes. I'm not sure it won't just be another excuse for mass hedonism…and how can you blame them if it is. Hopefully there is a change in the air…fingers crossed.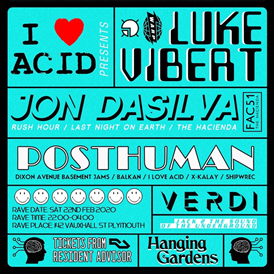 What plans have you got going forward?
Finish this Happy Mondays tour without too much of a hangover (!) Looking forward to 2020, the year of the 303+808+909 (Thanks Ralph Lawson!). Finishing a load of tracks when I get some time. There are a couple that I think will turn some heads. We are finishing another band album, the band being The Virgo Mechanically Replayed which will see release in 2020. Then an artist album. Boom! That's my 2020 sorted, plus a load of gigs all over the show! Bangface Weekender with an I Love Acid stage is one that I am particularly looking forward to! See you on the dance floor! X
More from Jon
Find quality music first with Trackhunter
Got some thoughts on this post? Share them in the comments below