Hunting down that elusive track
Wednesday, September 6, 2017
by Tat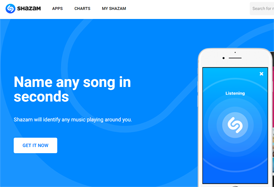 (C) Shazam.it
Trackhunter helps you track down the best pieces of music, those yet to be discovered new and reissued hot releases you could miss out from playing in your DJ sets. Among the various online music retailers are countless tracks from those straight off the mastering suite to a few decades old. Finding and championing new music is essential, especially for electronic music to survive, it cannot live purely on nostalgia. That said, it also has the most incredible heritage going back to over half a century of tracks that could still rock a dancefloor. You might know some of them based on what they sound like, but just don't know the name, you may just know a snippet of lyrics. We thought it would be good to look at some of the ways you can put a name to that illusive earworm track.
The first thing to remember when you hear a great track that you want to add to your collection is to record it. Most of us have a smartphone and the ability to record audio and video. So if you are listening to the radio, a mix, or are at a club and hear something that blows your mind, use your smartphone to capture some of the audio as best you can. Once you have the audio file you can do a few things to find out that track.
Shazam it
Shazam is one of the most incredible apps of recent times, one that many in the dance music community are using. For those unaware, Shazam listens to an audio file being played (the one you just recorded maybe) and can detect, with a decent success rate, the artist and track title of your mystery tune. To some extent it can be a blight of some DJ's lives as they drop one exclusive track after another only for some young kid to spend the entire night holding their smartphone in front of the speaker stack snatching rarities. It is like the big game hunter with their high powered, scoped rifle after that rare beast - often proving little sport. So if you are going to Shazam a DJ, don't do it right in their face and be choosy about what you scan. If Shazam existed back in the day of Northern Soul, the chances are that most DJs would have frowned upon such behaviour. Most DJs are happy these days for people to know the names of the tracks they are playing, it helps sustain interest in the artists producing the tracks. Just don't be the one to spend all night with the glare of a phone in front of your face when you should be dancing.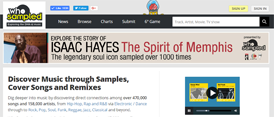 (c) Who Sampled
Who Sampled
Sometimes it isn't the actual track you heard that grabs your attention but a sample that forms part of it. Thankfully there is a website to help you with that, Who Sampled has been around for quite a while and has built a comprehensive database of songs and the composite tracks they sampled. The website has its own charts of most viewed artists in the last 24 hours and selects artists and DJs to choose their favourite tracks. If you have some idea of the track that has sampled or the sample within a song, then simply type it into the search box to see if there is a matching entry. You can search by artist or track and it will bring up any entries in the database and will link to a YouTube video so you can double check. So if you hear a track and love it, Shazam it, if you like a sample in it you can then find out what what is.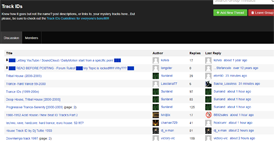 (c) Discogs
Forums
Not every track you will hear will come up on Shazam, as a lot of electronic and dance tracks are pretty rare, they just don't exist on the aforementioned websites. If you are desperate to discover what that tune is then you can try asking on specialist forums. A good place to start is Discogs and their very popular Track IDs forum. It has a wealth of posts and trainspotters eager to find out what that illusive track title is or help some other poor soul get to the source of a rare release. Remember you will need to try and post as much information as you have, preferably a sample, although take care to remove it when finished for copyright reasons. If you have any snippets of information, country or origin, year of release, where you heard it; all of these things can only help. If you are really struggling then take your sample and any relevant information and try posting in any of the online specialist groups and forums on the site. If your track sounds like pure Detroit Techno, then post it in any specialist groups on the web. Facebook has no shortage of active groups for all kinds of niche music genres, if anyone knows the title of that unknown release, they might.
Find Music By Lyrics
If your track is vocal based then you could try using Find Music By Lyrics. A simple site where you post in a snippet of lyrics and it searches the web to find the missing track. Remember to be selective with the text you put in, if your song has a chorus along the lines of 'I love you baby' then you might find a lot of results turning up.
Your local record shop
There may not be as many of them about these days, but there are still plenty dotted about the globe. For many that remain, such as Phonica, Record and Tape Exchange in London, Vinyl Exchange in Manchester, they have veteran staff who know more about dance music than pretty much anyone. That mysterious track that has eluded you for years may be one of the most obvious of releases to them, and if you are lucky they may even have a copy in the racks. Most of the unfriendly, arrogant record shops have gone, those that remain rely on good customer skills and a desire to help. After all, if they help you first time, you are more likely to return to purchase from them. Whatever you do, good luck on your quest to find that missing track
Discover digital dance music with Trackhunter
Got some thoughts on this post? Share them in the comments below