Houghton Festival Review 2018
Wednesday, August 29, 2018
by Tat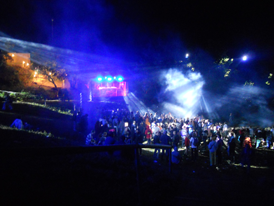 Craig Richard's Houghton Festival was a overwhelming success in 2017 meaning there was even more pressure to deliver a fantastic second iteration of the Norfolk dance music extravaganza. The inaugural Houghton Festival surpassed expectations but was also a huge learning curve for everyone involved as was witnessed by this year's changes. The hype and popularity could not be underestimated as tickets sold out in just a few hours back in a cold wintery February. This year many of the teething problems from 12 months ago were resolved and there were many notable new additions.
Houghton is situated in the grounds of the resplendent Houghton Hall near Kings Lynn and like last year there was acres of room for party goers to hang out if they didn't want to be in the heaving throngs in front of the decks. Much remained the same from 2017 with many DJs making a return to Richards curated long weekend. Many of the popular names who made last year such a success were back including Ben U.F.O, Andrew Weatherall, Ralph Lawson, Ricardo Villalobos and of course Mr Richards who seemed to be tirelessly playing in every corner of the festival site.
This year was more organised from the start although getting into the festival site took some party goers three hours due to the security checks taking place. There had been careful attention by the organising committee to work on what worked well and didn't so much last year. There were more areas added that catered for more diverse tastes such as Garage, Drum and Bass and especially Electro made notable entrances to Houghton's repertoire. Most of last year's spaces remained the same, with Magic Carpet moving slightly to accommodate Tantrum, which was one of the most popular additions to this year with a focus on 808 drums and notable sets building on pure rave culture. Paul Blackford and DMX Krew played excellent live sets in there, with the former using two tablets and a mini mixer to great effect. The Pavillion by the lake and the Darren Smart stage remained incredibly popular with the latter providing essential live sets by Emperor Machine and joyous performance by veteran latin star Mulatu Astatke with his talented backing band.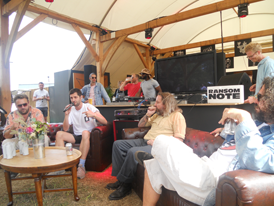 Everyone was spoilt for choice as several new areas were added bringing even more expert selectors and musicians to this beautiful part of East Anglia. Trevino's was another positive addition and like the Darren Smart Stage was named after close friends to the festival organisers. Trevino's was a combination of music venue, record shop and lounge. It was clear that there was more of an emphasis around culture and art at this year's festival with one notable discussion between Jonny Rock (Disco Hamam), Andrew Weatherall and Tom Coveney (Psychemagik) to discuss record cover art and play some of their early influences. This lead to a story being told by Weatherall on how he lost a box of rare Rockabilly 7 inches on a train station, which he never got back. He said he hoped the records were found by a teenager who after opening the box face melted just like the scene at the end of The Raiders of the Lost Ark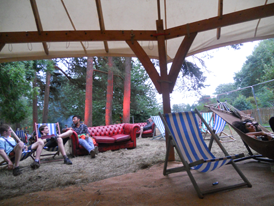 Pinders was also a nice addition tucked away behind the lake and beyond the therapy and healing areas. With dozens of hammocks and deck chairs for party goers to chill out, it extended on the space given over to the chilled sanctuary from last year. Notable live performances took place in the small tent with the most memorable as Richards played a dance steps LP over various sublime electronic pieces before Howie B followed up last year's superb live performances. The Pussyfoot main man tinkered effortlessly by combining minimal beats and chords to build layers of sound with incredible effect. At one point he cranked the beats to such an ecstatic level that it brought him quickly in front of everyone to dance in the style of Ron Mael from Sparks. Everyone was sitting on sofas and deck chairs at the time, and before we had got heads around this glorious moment of sheer joy, Howie was back at the controls to take down the pace once again.
Another space called The Clearing was also launched deep in the woods as DJs dropped chugging acidic house and dubby techno with four high quality speaker stacks facing back into the rectangle DJ booth. Whilst the aesthetics of the festival and its stages were improved on last year, which was no mean feat, the sound systems were the pinnacle of Houghton's success. Only on rare occasions did sounds bleed from one stage to another which was a testament to the quality of the audio and sound engineers. The Clearing had four speaker stacks that faced inwards meaning the sound soon tailed off once you moved to another area. Whilst the Quarry, last year's most popular and impressive post-dark venue was curtailed somewhat with a new layout. The DJ booth (in a customised shipping container) was moved with speakers repositioned meaning it didn't appear as busy as last year. With the addition of Tantrum it was quite clear the organisers wanted to split the audiences as The Quarry was at times too busy last year and possibly raising a few safety concerns.
Tantrum, Trevino's and Pinders and The Clearing all added something extra to the festival and thankfully didn't add too much duplication to the audio proceedings. Last year there were times when you could move from area to area and hear the same genres coming from the sound systems. This year you could have heard latin, reggae, techno and disco all in the space of a short walk. For those wanting silence there was the hourly land train trips to Houghton Hall's incredible sculpture park.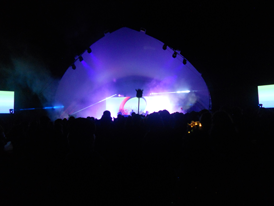 Other notable highlights included an incredible live set on the Sunday by Khruangbin who made full use of the stage to show off their incredible skills whilst playing effortless cover versions of The Shadows 'Apache' and Dr Dre. Nathan Fake stole the show on Friday night with a brilliant live set and stunning visuals. Radioactive Man played an unforgiving live set of 808 electro that kept teasing the crowd by dipping into old school drum breaks and stabs. Whilst one of the most popular and excitable live sets came when Monolake took to a platform in the middle of The Warehouse to deliver a powerfully deep set of dubbed out techno to a highly receptive crowd.
Last year was drenched in glorious August sunshine throughout the duration of the festival but sadly this year much of it was spent under clouds and drizzle, with just short periods of bright sunshine. This did nothing to suppress the party mood whatsoever as revellers danced with their hoods up unaffected by the sudden end to month's of hot summer days and nights. Only on occasion did the rain force people into tents and shelters, as some DJs benefitted from suddenly playing to a packed space. If there was any real downside to this year, it was the terrible state of the toilets by the final day with most of them out of action by Sunday morning. This of course may not be the fault of the organisers (but those hired to operate the poovers), but it certainly put a dampener on the weekend for some. Given how Houghton refined last year's festival to make it even better this year; the loos will no doubt be high on the priority list for 2019.
There were clearly too many DJ sets to catch over the course of the three days and four nights, but Weatherall was the highlight again just like last year. His five hour set in Tantrum was perfect as his rarely tipped over the 115 BPM mark which was not just witnessed by a packed tent but also a busy DJ area. Weatherall was oblivious to it all as he zoned in and out, coming alive to dig through a wallet full of CDs that obviously contained some very special editions. Other notable sets came Birmingham DJ Jayson Wynters and Hope Works boss Liam O'Shea who both carved faultless sets in The Clearing. Possibly the most joyous of moments happened on the Saturday as Horse Meat Disco played on the Darren Smart Stage to a field full of happy campers who rarely took their arms down from the sky for more than a minute. Houghton once again excelled itself and made incredible use of the location building very much on the foundations of its first year. There was loads of space to dance and unlike last year, there was food for sale right up until the end of Sunday night. What Richards and company do next year only time will tell, but it's certainly going to be worth another visit based on the evidence of the first two years. Just make sure you get the tickets super quick.
Get the next festival music first with Trackhunter
Got some thoughts on this post? Share them in the comments below