Essential gifts for DJs this Xmas 2019
Wednesday, November 20, 2019
by Tat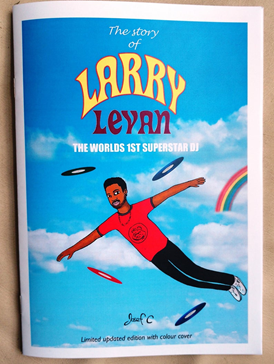 You won't have missed the fact that Christmas is around the corner and it is the Trackhunter tradition that we compile a short list of must have DJ gifts for any self respecting music fanatic to hopefully find in their stocking on the 25th. Last year we were pleased to hear of one DJ who was delighted to receive a miniature DJ mixer in among his pile of presents after his partner read our list, so we're hoping to find a few more winning gifts for DJs and their friends and family. We've listed gifts ranging from very cheap up to more high end offerings so you don't need to break the bank. Of course, you can just buy these treasures for yourself, wrap them up and on Christmas morning pretend they came from some imaginary family member - we promise not to tell.
The Story of Larry Levan: The 1st superstar DJ with colour cover (Extremely Ltd run) zine Paradise Garage New York - £3.80
Any Disco fan would be overjoyed to find this little stocking filler over the mantelpiece come the morning of December 25th. A lovingly drawn A5 cartoon hosted on Matty's Art Studio which captures the Levan story over 10 pages in colour with a few copies of the black and white version still available. The original run sold out and are all signed and numbered so if you miss the last of these you might regret it. The zine captures the infamous story of the Paradise Garage DJ and remixer and if that doesn't float your boat then we suggest you look at the other Disco themed works in the artist's portfolio.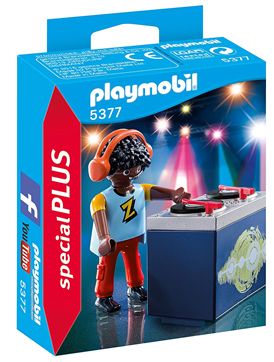 Playmobil DJ 5377 Special Plus DJ Z - £3.99
This is a great stocking filler and one that I have had the pleasure of receiving (until my daughter stole it from me). Playmobil gets into the DJ scene with DJ Z complete with double turntables, mixer and headphones. A brilliant little gift to put by your proper set up, but make sure none of your children run off with it.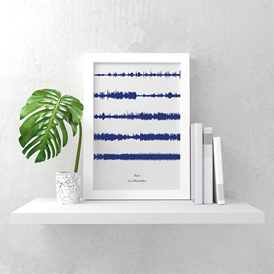 Personalised favourite song soundwave print - starting at £7.99
The best Christmas gifts are often those that take a little bit extra thought, so taking a loved one's most loved record and having its waveform printed to display above their decks is a sure fire way of showing you care. It also shows you listen when they wax lyrical about their most cherished track of all time. The audio from the track is entered into a sound wave generator and then edited to create the image. Any song can be turned into art with any combination of colours with or without a frame. Ordering is simple from choosing your two colours and song of choice, just make sure you pick the right song.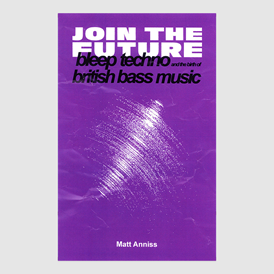 Join The Future - Matt Anniss - £14.99
There is no shortage of superb books that capture the chronological history of electronic and dance music and Anniss' contribution will be a brilliant addition. Going back to 1990 and the birth of bass driven UK dance music, the book explores the evolution of Hardcore, Jungle, Drum & Bass, Dubstep, UK Garage and Grime. It delves right back to the embryonic 1980s Electro scene that later inspired the bleep and bass movement that began life in Yorkshire through the likes of Warp Records and Unique 3 and further south through the London Hardcore and Jungle explosion. Packed with first hand accounts the book joins together the dots to create an important historical document about a collection of scenes that still thrive today on an international level.
https://bleep.com/merch/142529-matt-anniss-join-the-future-bleep-techno-the-birth-of-british-bass-music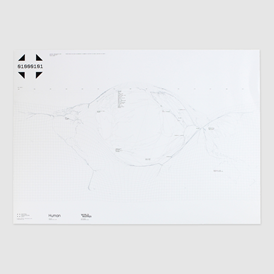 Central Processing Unit - CPU Artist Location Print - £14.99
Sticking with the bleep and bass theme, CPU Recordings have created their own A2 artist map for you to display above your collection of their records. With almost 75 releases under their belt from a myriad of countries across the globe this is a fine piece of art that is very much in the minimalist style of the label. Designed by the clever Human Studios in Sheffield it is the kind of atlas that would bring a big grin to any discerning Electro DJ after Santa has been and gone.
https://bleep.com/merch/120727-central-processing-unit-cpu-artistlocation-2012-2018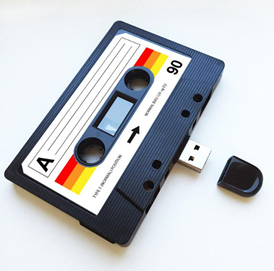 USB Mix tape - £15.99
Tapes never died and are to some extent making a bit of a come back, but for those of you over a certain age there is a real romanticism that came from compiling mix and compilation tapes. It wasn't just the compiling music that make gifting tapes that was so special but it was writing the tracklists and hand designing the covers that made it so special. Digital compilations and playlists are really quick and easy but they're also do disposable. Tapes, like CD and vinyl, were something tangible that you could hold in your hands and pass into someone else's to see their face light up. This gift is something you can give to friends and partners of a certain age, who will remember the art of the tape and even better is that you are not restricted to just 120 minutes of audio. These come in sizes ranging from 4GB to 16GB, so there's no stopping you from hosting a multitude of hot mixes. They come with a choice really artistic cases to finish the whole package off.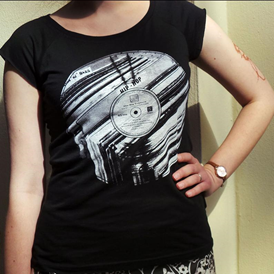 Old School Hip Hop men or womens T Shirt - £20.00
It's fair to say that most DJ and music T shirts are quite cheesy and not really that cool. This handmade one on Etsy is an absolute winner and merges a vinyl record shape with an image from the racks in Payback Records in Bristol. In the centre of the record is the EPMD classic 'The Big Payback' so no doubt real Hip Hop heads will give you a knowing nod in the street when they pass by.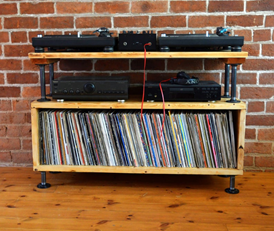 Bespoke turntable and vinyl storage unit - starting at £190.00+
If you really want to treat yourself this Christmas and have a healthy budget to do so, then this is a very special DJ present. Either purchased as a standard item or custom built by craftsmen located in Wales, they use solid wood with a charred finish, hairpin legs and steel pipe fittings for an impressive effect. Ikea's Kallax units are great but pretty much everyone has those (including me), these are just that little bit extra special. The only problem will be, how does Santa get one down your chimney?
https://www.etsy.com/uk/shop/SunWoodcraftsShop
Find quality music for Christmas with Trackhunter
Got some thoughts on this post? Share them in the comments below