DJ Growth Conference 2019 Review
Wednesday, December 4, 2019
by Tat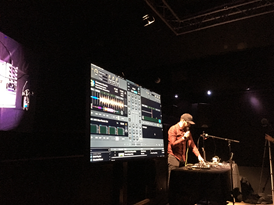 The second DJ Growth Conference was hosted at the hallowed Ministry of Sound and is an opportunity for fledgling DJs and producers to hear from some of the industry's leaders and pioneers. Around 300 delegates were treated to a mix of talks and workshops that explored everything from how to start your own night to getting visible in a very competitive market. Despite the name inferring the conference was aimed at DJs it was quite clear that there were many in attendance who were trying to build a career as a producer first and foremost. This is a sign as to how the scene has changed in the past decade with artists looking to build a production career that is supported behind the turntables rather than the other way round.
The first talks
The day was hosted by Danny Savage and started with a really interesting talk by Terry Weerasinghe from Beatport (one of the main sites we trawl for new music on Trackhunter). The platform's Chief Strategy Officer talked about the cycle of dance music trends and how digital downloads are actually increasing with scenes like Deep House, Techno and Tech House still making up a large part of music downloads. One revelation was that they planned to split Techno into two sections as they were witnessing a shift in Techno with one strand clearly being led by the likes of Drum Code. Following that, one of the UK original dance music DJ Superstars took to the stage as Brandon Block talked candidly about the perils of being an international DJ and the impact substance abuse can play once you become famous. Block confessed openly as to how he was told by his doctor that he was just two weeks away from death which led him to a total lifestyle change. Block talked about his own Happy Days company that he co-set up to deliver tailored holistic wellbeing programs and as a DJ in 2019 it was important to not making the same mistakes he had.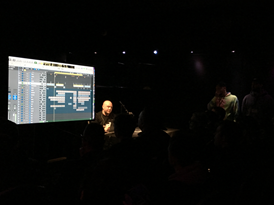 The workshops
The day wasn't just a collection of talks as five workshops were carefully curated and for the most part were over subscribed with very little standing room at the back. The four production workshops hosted by Gary Wood, Steve Mac, Saytek and Huxley, who showed their own production techniques with Steve Mac's 'How To Mix A Techno Track' covering lots of ground in a short time. The session drilled deep into getting the perfect kick drum with the use of plugins and effects. It was clear that there were knowledgeable studio technicians in the audience as conversations sparked between Mac and delegates as to what plugins they used as part of honing a great beat. The workshops were to an extent a platform for the much bigger Ibiza DJ Retreats that happen on the White Isle in the company of some of the conference's speakers. Whilst all of the workshops were full it was a shame that a useful one on DJing with Traktor's new Kontrol S3 only had a few attendees. Perhaps this spoke more about the nature of the day that more were here to find out how to make music and promote their brand than get useful tips for their DJing. Nevertheless, D.A.V.E's (Digital And Vinyl Expert) session was extremely well executed and offered some superb tips on how to get more from the Traktor software. One part of the workshop focused on using the remix function and packs within the Traktor Pro 3, not only to add something extra to your DJ set but also how to deliver live re-edits and remixes on the fly. D.A.V.E pushed the technology to the max - which is always risky on a live demo but was faultless throughout. Hopefully the third iteration of the conference will expand on delivering more workshops and hands on sessions. With more sponsorship by the leading virtual studios and DJ packages this could easily make the whole event even more attractive to DJs and producers.
A talk on how to release records successfully
Never Say Die and Disciple Records co-founder Nick Sadler then gave an in depth walkthrough of how to release music successfully with or without a label. Sadler, who now runs The Label Machine, went through a step-by-step, comprehensive structure of what you need to do to run a successful label and release music. On the surface it will have seemed like a lot of work for anyone considering starting a label - which some in the audience were - but in reality it was a complete framework for anyone wanting to take running a label seriously. Sadler delivered an engaging and interactive talk which delivered an incredible amount of tips and tricks for the modern artist or label owner and proved to be one of the highlights of the day.
The Breaking Through panel discussion proved to be very popular as Gary Wood chatted with Hard House producer Amber D, Live music specialist Saytek, Techno producer Steve Mac and Old School legend SlipMatt. The discussion focused on what you needed to do to get noticed and signed to a label. Saytek's model was fairly unique in that he had taken to performing live to create a buzz about his music, whereas the majority of dance music producers don't perform live sets despite building their own release portfolio. Amber D talked about her own personal growth as a producer from relying on other producers to make her music before building up to taking full control of her productions.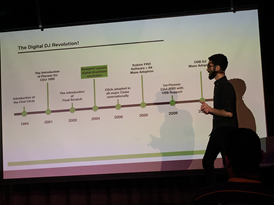 Beatport and streaming
Beatport returned to the main stage again to talk about their move into the streaming arena with a horizon scanning talk by Laren Agius. His talk explored the diverse DJ spectrum and that with a monthly subscription DJs could access 6 million tracks on the platform to stream. The service allows DJs to store around 150 tracks at any one time on their own DJ system which they saw as being an optimum amount for the typical DJ set up. At present the service was aimed at the start up DJs and such as wedding DJs who would benefit most by the ability to rebuild collections from the massive Beatport database. Agius appreciated that at present, bigger profile DJs were still very much in need for stability from actual downloads rather than rely on streaming content for their sets.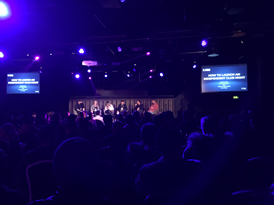 How to launch a club night
Next up was another panel discussion on how to launch a club night which included promoters from Elrow in Barcelona and Riffraff in Middlesbrough. The session also included Hellena Rebranded who told of how she managed to launch her own Ibiza night Sweetcheeks after landing on the island with no money and little experience of running a club. It showed what persistence and getting yourself out there can achieve if you are prepared to put in the labour and make the right contacts, as well as take a few risks. There was some sage advice from Lee Pennington from Riffraff who talked of exploiting successes that come as a result of taking risks as there will be times when things don't go to plan and you need to plan carefully with your income.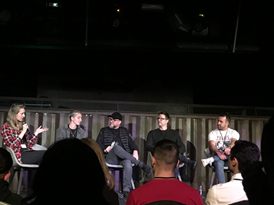 Life outside of the DJ booth
The day finished with one of the most interesting discussions that explored life beyond the DJ booth and featured electronic music pioneer Tom Middleton and Diplo's Radio One Producer Kemal Mermutlu. The talk explored the many different ways DJs and producers can get involved in the dance music scene outside of the DJ booth and studio. Middleton talked about the work he was doing for the popular meditation platform Calm and his collaboration with university researchers into sound. Whilst many on the panel still DJed the discussion returned to the earlier session with Brandon Block and the issue of burn out. Some of the panelists had noted the impact touring and DJing had played on their own health and wellbeing and in turn had expanded their own skills and portfolio. This chimed with the whole day in that DJing is not a separate entity anymore, it intertwined closer than ever to a much larger ecosystem of production, management and support. With events like this it can only help those going into the industry to have a more holistic approach to dance music and take advantage of the right opportunities. We're looking forward to the third DJ Growth Conference already.
Find more information
https://www.djgrowthconference.com/
https://www.facebook.com/djgrowthlab/
https://www.getbooked.academy/retreat
Craft your style by finding great music from everywhere with Trackhunter
Got some thoughts on this post? Share them in the comments below