Bleep - How I found great music
Wednesday, April 19, 2017
by Tat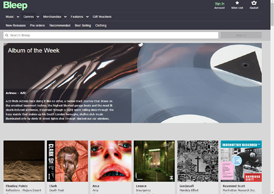 As Trackhunter continues to add more platforms for it to trawl through, it opens up more musical horizons to explore. With the addition of Bleep we open up a very special music marketplace to discerning listeners for seamless browsing. Compared to many of the other electronic and urban music marketplaces, Bleep have a smaller pool of releases to offer despite working across several genres and labels. Nevertheless with any online music retailer these days there are still too many tracks to dig through to find the real gems. I started by selecting the newly added Bleep option and picked the genres I wanted. Despite having less tracks to offer compared to other platforms Bleep does provide a lot of genres to pick from, including a couple I have to admit to never hearing of before. The genres are listed below:
Alternative and Indie
Ambient and Modern Classical
Bass
Braindance and Breakcore
Breakbeat
Dancefloor and Techno
Disco
Drone and Metal
Drum and Bass
Dub Techno
Dub, Reggae and Dancehall
Dubstep
Early Electronics
Electronic and Acid
Electronic and Electronica
Experimental and Noise
Experimental House and Techno
Experimental Pop and New Wave
Footwork
Grime and Weightless
Hip Hop
House
Industrial Techno
Jazz
Krautrock
Kuduro/Cumbia/Gqom/Hybrid
Library and Soundtracks
Minimal Wave and Post-Punk
New Age
Soul, Funk and RnB
World
Drilling down into the new releases
As you can see, quite an extensive list when we start to drill down into Bleep's music vaults. I selected the majority of genres and was interested to see what kind of results I would get from the previous week of releases. Compared to some of the other sites I had trawled in recent months my results were always about 1500, sometimes double that. So I was pleasantly surprised to find around 250 results come back to me from the previous week in early April and late March. As I was working at home I set the tracks to play and dipped back into Trackhunter to shortlist the ones that stood out as they appeared. Within around 30 or so minutes I had found about 10 tracks that I really liked and the good thing was that I did not once have to go from one webpage to another, I just got on with my work and listened to the playlist.
Not everything is fresh
One important thing to remember when using any kind of digital music platform is that not everything you find is released the date it implies it is. Digital music marketplaces have expanded their portfolios rapidly in recent years as older, often defunct labels supply them with masses of digital files to sell to new audiences. Sometimes a label can use the newer platforms to create digital compilations or new releases from old tracks that never saw the light of day. This of course creates a problem that Trackhunter is trying to fix as thousands of re-issues flooding the marketplace can make it harder to find the quality tracks. There is usually a reason a track was never originally released, sometimes because of the limitations of vinyl as dance labels between the 1970s and 2000s had to be really picky in deciding what got a physical release. There is also the other main reason that the tracks might not have been good enough regardless of format.
The shortlist
From the 250 tracks I decided on a final few and made my purchase through Bleep and recorded them into the Trackhunter Podcast #56 which you can listen to here:
Trackhunter Dj Mix Podcast #56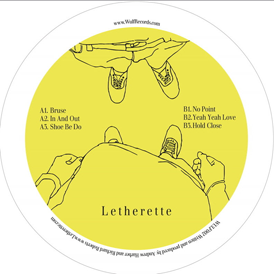 Letherette - EP 2 - Wulf Records
Another example of a release from a few years ago reappearing on a digital marketplace and with good reason. The track 'In and Out' has a beautiful J Dilla feel about it and contributes to a six track ep that goes from electro funk to sublime beats. The Wolverhampton duo bring together some fine samples and throw it into the pot to make a wholesome beaty mix that would sound nice in the garden this summer.
Superpitcher - The Golden Ravedays 4 - Hippie Dance
With several releases under Aksel Schaufler AKA Superpitcher project, The Golden Ravedays is the fourth instalment of the series on Hippie Dance. With two tracks, 1984 is a superb standout and sounds just like it was released in 1984 with a nod to the present day. With a perpetual low droning hammond in the background the track plods along building up an atmospheric vibe before dreamy chords start to chime hauntingly over the relentless slow motion dance track. A stand out release that gives a nod to post punk, shoegaze and classic electronica whilst above all that it is a great late night dance track.
Greg Paulus - Nightime (Crazy P Remix) Wolf + Lamb
Taken from the Wolf + Lamb long player 'Live on Planets', Nottingham crew Crazy P get to work on Greg Paulus' Nightime to make a slightly brooding, deep house workout that is part of a sixteen track release. Other artists include Seth Troxler, Wolf + Lamb, Mike Gil Featuring Robert Owens among others.
Cologne Tape - Welt 6 - Magazine
Released on double vinyl and CD as well as the usual digital variants, Cologne Tape follow up their superb 2011 release 'Render' with a eight track leftfield excursion into ambient and voice manipulation. With a few four on the floor moments and a final trip into post punk - new wave, the album is made up up hypnotic loops, voices, glitches and guitar chords to make for a superb outing. The whole thing has a timeless feel in that the majority of it could have been unearthed anywhere from 1971 onwards with nods to Krautrock's first generation. It might be six years since their last release but Welt is an immersive haunting and beautiful addition to anyone's music collection.
Byron the Aquarius - Nights in Jakarta - In Beat Ween Music
The oddest of artist names from the list and the punniest of label names brings a steady piece of tech house to the podcast with a track taken from a seven track long player titled Footwork House Jam No.1. Nubian Mindz and Intr0beatz offer a brace of tracks each along with Kid Sublime, Karizma and of course Byron the Aquarius.
Space Dimension Controller - Exostack - R&S
A label that needs no introduction after starting life in the 1980s, it brings up an artist who sounds like they are from the 1990s. This is Jack Hamill's latest release for the classic label and follows up his 2016 long player 'Orange Melamine' with four tracks of disco come techno goodness.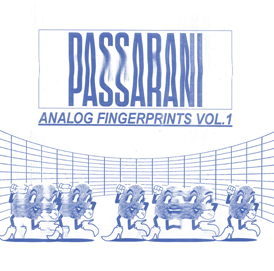 Marco Passarani - Analog Fingerprints Volume 1 - Numbers
I picked 'Tribalonios' from this three track ep and with good reason as the tune is a relentless, unforgiving house jackin' explosion that would sound great on any big soundsystem. All three tracks are superb and produced by Italian DJ Marco Passarani who brings an Italo Disco party right into your home.
Architectural - Heaven can Wait ep - Ellum Audio
Four slabs of deep, dubby techno from Juan Rico on the Spanish Ellum Audio label, well worth checking out.
Point Blank - Meng's Theme - Green
A classic resurfaces on the Green label as Jeroen Verheij brings back the popular techno track 'Meng's Theme' that came to fame in 1994 on R&S 'In Order to Dance 5' and on the Brave New World label. Back again but also using his more up to date Secret Cinema moniker as well. This release features the original and a Joris Voorn Remix.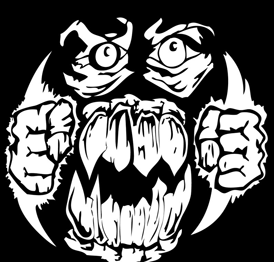 Skanna - Night Stalker EP - Skanna Records
John Graham released a plethora of atmospheric drum and bass releases in the early to mid 1990s under the Skanna imprint. Four of his tracks are back for the 'Night Stalker' ep and as it says on the Bleep review; "These are tracks that can go toe-to-toe with anything that has come out in the subsequent 25-odd years." I don't think I can argue with that!
I will be back in a few weeks time to sift through the latest uploads to Soundcloud to see what gems Trackhunter can find me.
Discover great digital music from Bleep and more with Trackhunter now
Got some thoughts on this post? Share them in the comments below