Best documentaries about dance music
Wednesday, March 7, 2018
by Tat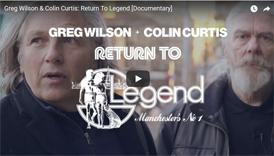 We wrote an article a couple of years ago that looked at some of the best films about dance music and clubs. In recent years there have been an explosion in shorter documentaries and films that celebrate four on the floor culture. Pretty much every genre and angle around dance and urban music has been explored via celluloid in some way or another. With people's attention spans shrinking, these documentaries are perfect to keep you entertained whilst travelling on the train or when you have a few minutes to spare with a bag of popcorn.
Greg Wilson and Colin Curtis - Return to Legend
Running at just under 27 minutes long, genuine DJ legends Greg Wilson and Colin Curtis take a whistle stop tour around Manchester reminiscing about venues no longer with us. Wilson was a resident at Legend in the early 1980s playing the sounds of disco, jazz-funk and electro. Curtis came to notoriety as a Northern Soul and jazz-funk DJ in the decade before with both spinning discs in Manchester's greatest clubs over those two decades. Their trip takes in The Hacienda (of course), The Ritz, Playpen and Berlin alongside old record shops. It's a great archaeological exploration of what became the foundations of Manchester's burgeoning house and rave scenes that helped create the great clubbing mecca it is today.
greg-wilson-colin-curtis-return-to-legend-documentary

The ain't Chicago: UK House according to the artists who lived it
Running at just 21 minutes long and released in 2012 by the superb Strut Records, it features prolific producer and DJ Richard Sen discussing the first wave of UK house acts. Whilst Manchester and the north were embracing U.S. house music in the Hacienda, there was a movement of underground UK house artists in the south of country producing their own take on the fresh sounds from across The Atlantic. The documentary features interviews with Lesley Lawrence of Bang The Party, P-Mac and Kiss FM DJ Colin Faver, who sadly passed away in 2015. It's a superb record of the UK originators who would inspire thousands of fresh artists to release their own 909 induced tracks.
www.youtube.com/watch?v=qAFQFKqA3oo
www.strut-records.com/thisaintchicago/info.html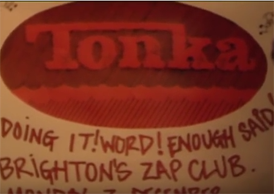 Tonka Soundsystem Documentary
Tonka was unlike any other club at the time that took place on a Monday night at the Zap Club. It was the place that helped launch the career of legendary DJ and party general, Harvey. The documentary is 20 minutes long and features a fresh faced Mark Mckenzie AKA prolific DJ and label owner DJ Choci. There are interviews with those who put the night together and those who came to party in the hot, energic and steamy atmosphere of the Zap Club. The club scenes come at the end and they are pure classic acid house mayhem. It is a microcosm of a collective and close knit fraternity with lots of intimate footage and interviews for those who were there and those wanting to know more about the tough noise for tough boys.
www.youtube.com/watch?v=WyGW88l6q-8
If you want a bit more, here is a 13 minute clip of DJ Harvey playing at Tonka at the Zap in 1990
www.youtube.com/watch?v=Gvl5mktQwZ8
Moodyman: A Detroit Enigma
Resident Advisor tries to get into the psyche of Detroit's homeboy Moodyman in a very brief six minute video. With snippets of rare discussion and interviews interspersed with his music and connections to his hometown. With a nod to the influential Detroit DJ Electrifying Mojo who championed the sound of the modern Motor City. Kenny Dixon Jnr's output is explored for other influences and contributions that make the mysterious enigma he is.
www.youtube.com/watch?v=nVlCGZn6Qog
I was there when: House took over the world
Channel Four has increasingly been interested and supported alternative and dance music culture going back to 2001 when they produced a series of excellent documentaries called Pump up the Jam. This first exploration of house music was enhanced with a couple of subsequent short films in 2017 that looked at the embryo of house music going back to the late 1970s disco scene. It features interviews with the originators and contains a heap of images from seminar nights at The Loft, The Warehouse and The Gallery. With interviews from icons Marshall Jefferson, Nile Rodgers and Honey Dijon it is a treasure trove of house music nostalgia. The first scene starts with the opening of a garage door that takes us into a cluttered space and a wall of vinyl before Marshall Jefferson's House Music Anthem drops on an old turntable. At 23 minutes long it covers a lot of ground in a very short time whilst part two does that literally as it explores the global explosion of house music that followed afterwards with the birth of acid house. The rest, as they say, is history.
Exploring Ukraine's underground rave revolution
A micro documentary played out over 10 minutes where i-D Magazine travel to one of Europe's far flung destinations where rave became a beacon of light in amongst desperation and conflict. Filmed in 2014, the documentary focuses around the Cxema night which is a raw techno rave party in Kiev. With a starting point of the revolution that took place in Ukraine, it features many of the young clubbers lead by Slava Lepsheev looking for a distraction from tragedy and conflict through music and dancing. Club culture has always skirted around the edges of society and existed in the rawest of places. The Ukraine illegal party scene typifies all of this type of movement and the documentary frames the unbridled energy perfectly.
www.youtube.com/watch?v=P4G1r2u8m9g
Find digital music with Trackhunter
Got some thoughts on this post? Share them in the comments below