Bespoke vinyl subscription clubs - four of the best
Wednesday, July 12, 2017
by Tat

For any DJ and music lovers out there, one of the biggest problems isn't just about the sheer wealth of tracks to dig through, but finding music that others just don't have. Trackhunter works hard to help you dig through the thousands of new releases every month to find the very best dance, alternative, urban and electronic music. Whether that is a digital or vinyl release we work hard helping you discover music to suit your taste using our own software. There are other ways to discover new and cool music of course and an increasingly popular one is the growing number of bespoke record subscription services. This week we thought we would look at a few of them based in the UK and see what they offer in return for your hard earned cash.
Wax & Stamp
Wax & Stamp has already established itself as a quality bespoke record mailout service that has a simple system. For your £28.00 a month you get two records, both of which you won't know what they are until they arrive on your doorstep. So there is a degree of uncertainty to it all, but given they have delivered 25 different pairings of vinyl so far, subscribers must be pleased. One of the things about collecting music these days, especially vinyl is the feeling of having something different, that no one else owns, that is unique to your collection. Wax & Stamp send you one record that they pick and then another selected by a guest, so you might get electronica, jazz, indie, just anything really. Previous selectors have included R&S Label Manager Andy Whittaker, DJ and World Snooker Champion Steve Davis and DJ and writer Bill Brewster. The releases may be a 12 inch or full long player and are all themed with the latest issue 25 focusing on electronica, folk, minimal, and neo classical. So if you fancy taking a punt with some carefully picked vinyl you never know, after a year you may just have 24 of the best records in collection that none of your friends have.
Monthly subscription: £28.00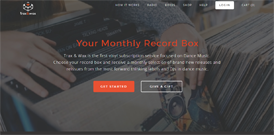 Trax & Wax
Not to be confused with the above , Trax & Wax has two different price ranged packages depending whether you want two or four records. The packages include new 12 inch singles from reputable distributors including Rush Hour, Clone and Syncrophone Records. For your money you can expect new releases and represses of some of the hottest records in dance music. Unlike some of the other vinyl subscription packages you can refine and select your box of releases and change them from month to month. The six types of packages are: Trax & Wax Box - A mix of house and deep house music Disco Box - Includes disco, nu-disco and edits Old School Box - A classic sound of Chicago, Detroit and New York Nu School Box - A selection of tech house, and techno music Techno Box - A selection of dub, techno and minimal DnB Box - A selection of the latest DnB and jungle releases. Each of the boxes can be explored with previous selections in a Soundcloud playlist so you get a good feel for the kind of music you will get. Whilst each selection also shows what kind of labels Trax & Wax deals with you again give you a good idea of content.
2 Records - £21.90 - £126 for six months
4 Records - £36.90 - £216 for six months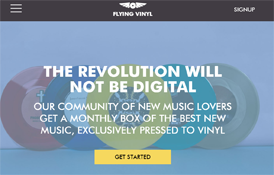 Flying Vinyl
Flying Vinyl has been going since 2015 and has served up several boxes of vinyl goodies since then. The subscription service focuses on underground indie, alternative and rock tracks which they press to lovely 7 inch singles and sent you in a box. All the releases come complete with their own attractive sleeves and have full A and B sides just like the glorious indie music scenes of the 1970s and 80s. At £28 a month it works out at less than £6 a record delivered which it is quite good value for a bespoke vinyl service. Remember it is not uncommon for 7 inch singles to cost double that on Record Store Day. Previous releases have come from The Amazons, Deap Vally, Jaws and The Big Moon to name but a few. So if your tastes are beyond electronic music and you fancy some lovingly curated indie sounds, this might be the package for you.
Monthly Subscription £20
Yearly Subscription £216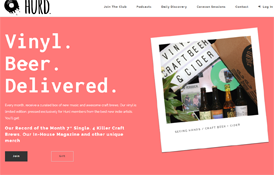 Hurd
Hurd goes a little bit beyond just being a vinyl subscription service as it provides a record and beer subscription. Offering a multitude of options, that all change according to your drinking habits. Hurd is the kind of subscription you will look forward to opening after a hard week at work. Along with their own monthly periodical, this record club is one that captures the new hip industries that focus on the 'craft' that capture the handmade ethos into a monthly digest of words, music and beer. If you are teetotal then fear not as Hurd offers a vinyl only subscription where you get a record and one-ff goodies such as art prints for £9.99.
£23.99 for a variety of beer and cider options along with a colour 7 inch single and one-off goodies
£9.99 for the 7 inch colour vinyl and one-off goodies
There are an increasing number of vinyl subscription services depending on your budget and music tastes. Some focus on singles, some full albums and the even ones that delivers second hand records to your door for those starting out collecting vinyl with such as the Retro Store. Unlike searching on Trackhunter and at your local record shop you may have to put your trust in these services. That said for them to continue and flourish they will have to provide the very best music and service. So if you are after tracks that no one else has in your social circle and a few craft beers to enjoy them with, it might be worth giving a few of them a month's trial to see what all the fuss is about.
Discover great digital dance music with Trackhunter
Got some thoughts on this post? Share them in the comments below