Apple iDeck to take DJing to the next level
Friday, April 1, 2016
by Tat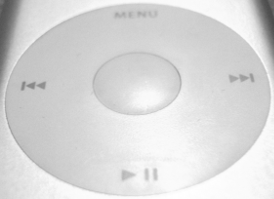 Dan Taylor-Watt CC BY 2.0 http://bit.ly/1MCezVS
It's not often we report about developments elsewhere out in DJ Land at Trackhunter but we couldn't resist sharing the incredible news that Apple are to step into the DJ market big time. Their latest piece of technology to drop later this summer will be the iDeck which aims to revolutionise the entire DJ experience.
The iDeck will combine two large jog wheels like their iPod with a series of smaller jog wheels to control volume, faders, trims and tweaks. DJs will select tracks from their onboard iPod (which comes preloaded with U2's remix back catalogue) and control them with the various touch knobs. Apple's aim is to take DJs back to an era pre-faders where disco pioneers used rotary knobs to control the music. Product manager for the iDeck Lea Jappri said; The aim is to deliver a DJ mix that is smoother, cleaner and better than anything we have heard before.
To select a track DJs will need to cycle the corresponding jog wheel to select it from their iPod before then using the wheel to cycle through the various functions such as sync, play, pause, rewind etc. This isn't Apple's first foray into the DJ market as they have previously released peripherals for their kit which ranges from the iRig midi controller to them selling the Pioneer DDJ-WeGo digital DJ controller.
Find tracks for this amazing piece of kit with Trackhunter on Mac, iOS or Windows now
Got some thoughts on this post? Share them in the comments below