A Tribute to Andrew Weatherall
Wednesday, March 11, 2020
by Tat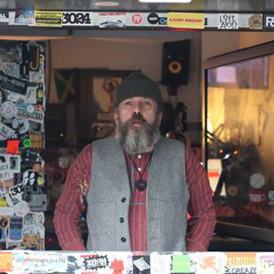 There have been many wonderful tributes written about the life and times of one Andrew James Weatherall. We wanted to leave our own tribute to one of music's true personalities and as someone who had a profound effect on us here at Trackhunter HQ. The description of genius, icon and groundbreaker is often bestowed upon artists on their passing, often without credibility but in the case of Weatherall he was all three. In fact he was all of the following, a tastemaker, an artist, protagonist, provocateur, unique, gifted and passionate.
In the melting pot that is modern electronic music, boundaries often blur and artists shapeshift between scenes but none did it as subtlety or effectively as Weatherall. The staple diet of Electro, Techno, slow motion dubbed out leftfield dancefloor belters were comfortable bed fellows alongside deep, heavy Dub, Roots Reggae and Rockabilly. The thing about Weatherall is that he could have been playing a myriad of four to the floor tunes but you'd just know instinctively it was him behind the decks. Reaching back to the late 1980s and early 1990s it was his magical powers and foresight that brought together the forces of Indie guitars and hypnotic persuasion of Acid House. No one could have predicted the 30 years of brilliance that would follow. Perhaps Weatherall could, as even back then he was ploughing his own furroughs, crafting his own sounds whilst incredibly aware of the changing environment around him. He stayed on point throughout, remarkably relevant and thorough in his excellent NTS radio shows that were incredibly attuned to new and exciting music. His ability to combine sounds from the 1980s to the present day showed that in reality he was the best thing on the radio post John Peel and would have made an excellent successor to that particular crown. His sharp and ironic wit and masterful ability to tell a tale were all things Peel was much loved for. Yet unlike Peel, he was technically gifted as a DJ, so you didn't so much hear records at the wrong speed but just slowed down to fit Weatherall's groove. He was almost lost trance-like behind the decks, you got the impression that if no one was there in front dancing that he would be having an equally great time on his own. I attended the first Houghton Festival and recall an incredible set he played at the inaugural four day party in the infamous quarry that went on until the middle of the night. The likes of the blisteringly hot 1983 Electro Synth Pop of Night Moves 'Transdance' mixed in with new Acid and Italo Disco to a packed crowd until the early hours. A short while later at 10am, The Chairman was back at it in a different location as he dropped ridiculously loud Roots and Dub Reggae to another appreciative group of revellers, many of whom had probably stayed up for the entire night. I was lucky to catch Weatherall DJ six times in the last four years, all at festivals and at each occasion there was no shortage of people hanging in the booth including other notable DJs such as Houghton's main Craig Richards who would lean over clearly asking what was on the burnt CD that had just dropped.
I can still picture him striding purposefully across the festival site on that particular weekend with his heavy duty biker duds, his stride was wide and upright. Later I attended a particularly entertaining panel discussion at Trevino's, a centrally located entertainment and record shop community hub that had been named after Marcus Kaye AKA Marcus Intalex and Trevino who passed away in 2017. The focus of the discussion was around record sleeve art and featured label boss and producer Jonny Rock and Danny McLewin from Psychemagik. At the end of the session the audience were asked whether they had any questions, I was the only one to chirp up with one. I asked (aimed at Weatherall) whether they had ever roached a record sleeve. He laughed and instantly came back with that the sleeve should always match the substance and that such as a Burning Spear record sleeve being appropriate for rolling a joint. He then asked me what genre of sleeve should be used with cocaine - before bouncing back with his conclusion of punk. He talked of the time he was standing at a train station travelling with a box of rare Rockabilly records trying his best to remind himself not to leave them on the platform. Before he knew it he was on the train minus the said records. Even at such a loss he found it hilarious in the notion that some young teenager found them and took them home only for their face to melt (Raiders of the Lost Ark style) on opening of the box. If there is any justice in the world then a suitable venue at Houghton or a similar location should capture his name in remembrance for future legendary sets.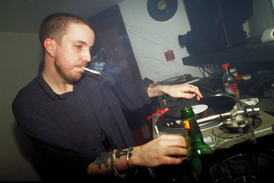 To try and emulate his productions was always foolish, despite 30 years of producing music and first making a mark back in 1989 with The Happy Mondays 'Hallelujah', he soon found a formula and stuck with it. That formula was no single thing but the sum total of many parts and like Willy Wonka's chocolate recipe it was infectious and had the most mysterious of ingredients. Personal favourites of his more recent works were themselves tributes to those no longer with us. The remixes of Mike Garry and Joe Duddell's 'An Ode to Anthony H Wilson' and the stunning 'Henry McCullough' by BP Fallon and David Holmes are beautiful and hopefully a similar record in Weatherall's memory might emerge.
youtube.com/watch?v=LUE9PPiZ7W0
youtube.com/watch?v=WU9yKFhpMjQ
The afternoon I got a phone call to say that Weatherall had passed away from a mutually adoring fan (others followed) I received an email from Norman Records to inform me that his latest release - Unknown Plunderer on Byrd Out records was being dispatched to me. Shortly afterwards I retired to the pub with a couple of friends, who too were saddened to hear of his death. One of the couple was a promoter who had once had Lord Sabre playing a few tunes at his night a few years back. As I sat down, Toto's Africa appeared out of nowhere on the speakers, which brought a wry smile to my face. It was at the very same panel discussion at Houghton where he announced how much he disliked that record - it was pure coincidence, but notable in its presence.
Yet despite the sadness myself and countless other friends discussed and shared across social media it's important to think of those who are most affected by his passing first hand. His close family and friends, who put out this statement shortly after his death: "Lizzie, Bob and Ian would like to thank everybody quite literally everywhere for their lovely messages and tributes to Andrew. We know what a special person he was and are overwhelmed at the number of people who knew this too. To hear their stories and how he influenced them is a real joy at such a raw and dreadful time. Please do what he would have wanted… creating, listening, dancing, but above all pushing boundaries." There is no doubt he lived by that mantra and I'm sure we'll hear new recordings, productions and remixes that have yet to be released. It is no consolation for the loss of a life so young, but in his 56 years Andrew Weatherall produced and enhanced many lifetimes of incredible music - his legacy is without question. He had many collaborators and clearly people who loved him dearly, many personal friends, who have shared funny and insightful anecdotes and stories across the web. The Guardian's tribute summed it up so succinctly when they wrote: "His greatest talent was in balancing his diversity with a certain kind of predictability: you never knew quite what Andrew Weatherall was going to do next, but you knew it would be good."
Find quality music first with Trackhunter
Got some thoughts on this post? Share them in the comments below