The best places to host your DJ mixes online
Wednesday, September 23, 2015
by Tat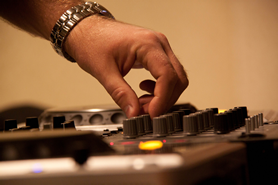 (C) Betsy Weber CC BY 2.0 http://bit.ly/1KZqf3O
In previous Trackhunter articles we have looked at various methods for enhancing your online DJ profile. From building your social media brand to hosting a radio show, they can all have great benefits but the real impact comes from your DJing ability. That really comes down to your track selection, technical ability and skill in composing a good mix. So the most obvious place to do that without being in a club or at a party is to upload them to the web. Naturally any DJ worth their salt puts in a lot of practice and when possible records their mixes for others to experience online. Most of us will have heard of the two big "clouds" Mixcloud and Soundcloud, but what else is there? For the latest article we will explore some of the lesser known platforms as well as the main protagonists. Also it is important to note that most of these platforms have regular competitions for aspiring DJs to enter where they can win all kinds of goodies from DJ gigs to free equipment.
Soundcloud and Mixcloud
Let's start with the two big players in the mix hosting fraternity. Soundcloud started life in Stockholm in 2007 and has since gone on to be the leading platform for musicians and DJs to upload and share their output. A free Soundcloud account gives DJs three hours of time to upload their mixes, which equates to three mixes. The next level up is the Pro account with costs £35 a year and doubles that to six hours with added stats. The main difference between Soundcloud and Mixcloud is that Soundcloud allows downloads, and this is where a problem arises. The growing number of mixes, illegal edits and uploaded tracks has brought much attention to Soundcloud. After expanding beyond its grassroots audience, Soundcloud now scans for content that breaches copyright and results in a takedown of such content. Therefore, if you upload a mix to Soundcloud and it has copyrighted material (which it probably will) then it will quite possibly get taken down. On the other hand, Mixcloud's initial and less attractive model did not allow downloads and therefore seems to be the way forward for most platforms. Mixcloud began life in 2008 and has a wide portfolio that includes lectures and radio shows among other things. DJ mixes have to have the majority of a track list, therefore allowing users to see what is included in the mix. This also gives an option for listeners to purchase tracks featured in the mix from such as Juno. Tracklists are now revealed as the mix goes on, meaning users need to listen to the mix properly rather than skip through in search for track titles. The free version of Mixcloud offers unlimited uploads and listens with basic stats. The premium version which costs £49.99 removes any adverts and an advanced profile customisation. In my opinion, Mixcloud is a no-brainer for uploading your mixes. Both platforms are available on IOS and Android.
Beatport Mixes
The purpose of Beatport Mixes is to offer a platform for DJs to create and sell their own DJ mix. The mixes are created by using tracks from any online Beatport store in addition to compositions owned exclusively by the DJ. This helps keep the mixes within a legal framework and in return helps create extra revenue for Beatport as listeners purchase tracks featured in the mixes. DJs are then able to earn royalty payments based on visitors purchasing their mixes. Unlike the other platforms mentioned this is a modern take on the old school version of selling mix tapes and CDs from your local record store. Mixes can be uploaded in a variety of formats, WAV, mp3 and AIFF, with no limit on the number of mixes that can be uploaded.

(C) Jeremy_w_osborne CC BY 2.0 http://bit.ly/1V3gH7w
B00mb0x.org
Far less obvious than the others in this list, but B00mb0x.org has been on the scene since 2001, so is well established. As it says on the web banner it hosts "lovingly crafted mixes", which is fair comment. Instead of thousands of mixes that can leave any listener feeling overwhelmed, B00mb0x only has about 5 new mixes uploaded every month. Listeners have the options to stream or download the mix and its respective artwork, with covers designed with the idea you can print them off and burn the mix to a CD. This platform is best suited for the more eclectic DJ, or for one off specialist mixes. Backed by a small but devoted community, it is worth an investigation if you think you can create bespoke mixes from the crowd.
House.mixes.com
Despite the name, house.mixes.com does not host exclusively just house mixes. DJs can upload all kinds of mixes from jungle to chill out, although the majority do sit under the house umbrella. The website allows 5 mixes per 24 hour period which is more than enough for anyone and with a file limit of 500mb which again is very generous. Like Soundcloud there is an option to download mixes.
Mixcrate
Not too dissimilar to Mixcloud, Mixcrate started a year later in 2009 and is well established in the online mix community. Mixcrate allows users to upload any number of mixes, with a file limit of 190mb per mix. As with Soundcloud and Mixcloud, mixes can be embedded into your blog or website. According to Mixcrate, the pro version of the platform is only available to DJs who have; "Received widespread recognition, DJ accolades, sponsorships, awards, gone on tour, been DJing full time at some point in your DJ career, or all of the above." Mixcrate links tracks from a DJ mix direct to Amazon for purchase in an attempt to support any artists included in the mix.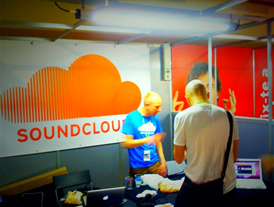 (C) Eric Wahlforss CC BY 2.0 http://bit.ly/1KZqfRx
Mix.DJ
Once you get past the homepage this does not look too dissimilar to Soundcloud with the familiar waveform player. Users can leave feedback and leave likes if they enjoy one of the mixes. DJs are limited to 1GB with the free version, which depending on the encode rate of your mp3 could be anything from half a dozen mixes to about 20. Like the other main platforms, Mix.DJ allows DJs to connect, post photos and advertise events where they are playing at.
YouTube
There is nothing to stop you hosting your mix on YouTube, after all lots of DJ sets are up on the behemoth of a video platform already. Just look for any classic Radio One Essential Mix and you are as likely to find it on YouTube as anywhere. Also you were quite likely to find a wealth of comments with requests for track idents and responses to such calls. The problem is that like Soundcloud there is a chance it could be taken down if someone finds a track they deem in breach of copyright. Also it is a video platform, so if you are going to upload a mix why not video yourself in action. Given the sheer number of Boiler Room sessions on YouTube, you might want to invite some friends round for a party, add a few flashing lights, a disco glitter ball and capture it all on film.
Your own server or website
You do not have to use any of the previous suggestions if you have your own website or server, but ideally the best way forward is to exploit every possible platform to maximise your reach. If you have your own website and server then it is a good idea to host your mixes and make them available 24 hours a day. This is OK if listeners are aware of you and your mixes already. The advantage of the other platforms is that they are already established as hubs for people to share and discover mixes, so it makes sense to take advantage of them. Whilst some are better than others, it depends on what kind of mixes you are sharing and what kind of audience you want to reach out to. Platforms will come and go, so whatever you do, make sure you keep backup copies of your mixes so you can capitalise on the latest mix hosting platform as it's likely as seen with MySpace and Soundcloud that whole communities can move in no time at all.
Get tracks to play in your mixes using Trackhunter
Got some thoughts on this post? Share them in the comments below