Review of Boiler Room film platform 4:3
Wednesday, June 6, 2018
by Tat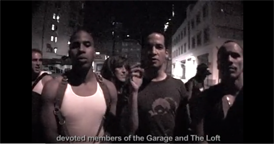 Boiler Room has established itself as a truly a global dance and electronic music phenomenon which has delivered DJs, clubs, live shows and documentaries direct to your living room. Now it has launched its own film channel wonderfully titled 4:3 which is standard aspect ratio for a TV Screen. It is still early days for 4:3, but at Trackhunter we thought it would be good to explore some of content they have carefully curated for your viewing pleasure.
Speaking of curation, they have also called upon the talents of Ryuichi Sakamoto, Peaches, Elijah Wood and Jenn Nkiru to deliver content. 4:3 has various playlists and channels that focus on music, animation and the avant garde, rare archives among other collections. There are some real oddities and rarities alongside films on hedonism and excess - think of it as a Netflix for the alternative generation. Boiler Room have said of the project; "4:3 is a multifaceted genre-spanning platform for curated and commissioned underground film exploring themes of performance, identity, youth culture and anti-establishment." Here are some of Trackhunter's recommendations from their growing collection.
Paradise Garage: Early Club Culture
The real gem for any fan of the roots of house music is the Paradise Garage early club culture set featuring nine superb cuts of celluloid. The legend that is David Mancuso, wearing a 'The Loft' T shirt is captured in a 15 minute short where he talks getting that perfect sound. It's raw, insightful and features a quick tour of the turntables of that time. The collection also features interviews with Ron Hardy, Tee Scott and Frankie Knuckles. Whilst you can also check out previously unseen video tapes from the closing party at Paradise Garage in 1987 which has been re-soundtracked by DJ Harvey. No cameras were allowed at the Garage but the 60 minute film shows original footage which is cut across nine CCTV split screens that capture the club from various viewpoints. The film includes footage of Larry Levan playing to the crowd with guest performances from Liz Torres and Gwen Guthrie. Without doubt a very important artefact that captures a key moment in the history of house music. Whilst 'Maestro' is an exclusive release on 4:3 that brings everything together for the house purist. Only ever released as a limited DVD run, this is a real opportunity to witness incredible footage of the Paradise Garage and Larry Levan.
fourthree.boilerroom.tv/playlist/early-dj-culture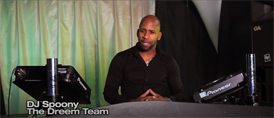 Rewind 4Ever: The History of UK Garage
Garage will always hold a special place in UK dance music history and this 80 minute film takes you on a journey throughout the genre's rich history. Rated an impressive 8.2 on IMDB, it is a testament of quality and will be of interest to anyone with a passing interest in Garage. Featuring a wealth of the scene's main players, Todd Edwards, Karl 'Tuff Enuff' Brown, Norris 'Da Boss' Windross, MC Creed, Matt 'Jam' Lamont and Artful Dodger to name but a few. The film starts with the roots of Garage and how it soon created a groundswell of attention and a huge following that broke into the national charts and radio stations from the humble underground clubs and pirates.
fourthree.boilerroom.tv/film/rewind-4ever-the-history-of-uk-garage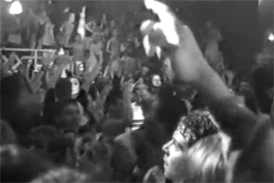 Quadrant Park: N-Joi's Anthem
Few clubs could compete with Liverpool's Quadrant Park for enthusiasm in the early 1990s and this short 56 second video captured that incredible ball of energy as N-Joi's masterpiece 'Anthem' is dropped. Once the beats kick in they are drowned out in a cacophony of whistles, cheers and euphoric screams. The video, as with many of the Boiler Room archives, can be found on such as YouTube, but the fact they have collected this for their own online exhibition highlight its importance as a rave artefact. Briefer than a minute, so well worth the watch, we guarantee it will be the best minute you spend all day.
fourthree.boilerroom.tv/film/quadrant-park-n-jois-anthem
Jeff Mills: The Wizard
Incredible early footage of Jeff Mills from 35 years ago way back in 1983. The video captures a fresh faced Mills playing to a very large warehouse party. Mills cuts and scratches The Egyptian Lover's 'What is a DJ?' over a driving 808 infused pre house track. The three minute video is cut in a way that it almost looks like Mills is in his bedroom DJing but you later see him playing to a full crowd whilst honing those incredible turntable skills.
fourthree.boilerroom.tv/film/jeff-mills-wizard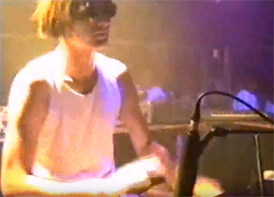 Villalobos: Playing Congas
He is one of the most inventive and abstract of producers of the scene right now, but go back 25 years ago and you can see for yourself how mean Ricardo Villalobos was on the ones and twos of the bongos. It's any wonder there is any skin left on his fingers as he hits the drums at a tremendous rate trying to keep up with the fast paced trance techno over the course of the two minutes. The trademark flowing bobbed hair is still there, although what appears to be a bum bag around his waist will have no doubt been confined to history.
fourthree.boilerroom.tv/film/ricardo-villalobos-playing-congas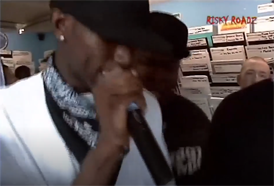 Risky Roadz: Vintage Grime
It's incredible to think of the word vintage when we talk about Grime, but the scene is truly established in British culture now beyond the inner city back alleys that spawned the UK's most purest of hybrid sounds. Collecting videos from the pioneering Grime DVD series Risky Roadz it puts the viewer up front and central with some of the key artists running the scene. Short freestyles from Giggs, Roachee, Kano feature alongside a Grime production setup tour and a very micro interview with Dizzee Rascal.
fourthree.boilerroom.tv/playlist/beginnings-grime
Discover great digital music for your next festival with Trackhunter
Got some thoughts on this post? Share them in the comments below