Must Have DJ Kit: Part One - Headphones
Wednesday, November 4, 2015
by Tat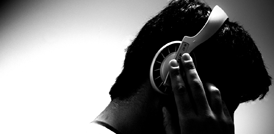 (C) Nubrig CC BY-NC 2.0 http://bit.ly/1RmQmQZ
The two things that make a DJ stand out above anything else is music choice and technical ability. The first is very subjective and comes with time, the older you get, the more music you become exposed to. The second comes with practice, the ability to beat-match, scratch and master the controls all require an investment of time. Music choice also comes with an investment of time, you discover more and better tracks you have to search around, whether that be on Trackhunter, in the record shops or at a flea market. The third, and often ignored element of DJing is the equipment. There is a bewildering amount of DJ equipment out there these days and choosing the right setup can take a lot of thought. You may be limited by budget, space or interest, as not every DJ wants to own 10,000 records and a multitude of interfaces to play from. Things have moved on from just a pair of SL1200s and a mixer. At Trackhunter we thought it would be good to drill down into the various options DJs can currently explore, starting with headphones. Some of the larger online stores offer a wide array of headphones, starting with budget, affordable models right up to those costing more than £200. We look at five pairs of headphones that will fit every price range.
There are plenty of videos and recordings out there that show DJs playing in their rooms or in clubs with little use of headphones. Packages such as Traktor have made it easier to create mixes, certainly in your own home without headphones, but they still remain a must-have item for anyone playing out. I remember the first time I used Traktor at a friend's house about five years ago. I cued up three tracks that I had never heard before and mixed them seamlessly for four minutes without headphones thanks to the sync button and by watching the waveforms. Yet it is not that easy, especially in a loud environment or if the tracks have not been quantized, headphones are still essential.
Things to consider when buying headphones
There are a couple things you really need to consider when buying headphones. They need to be loud and comfortable. The more money you spend the better it will deliver these two necessities. When we refer to headphones being sensitive, what we mean is what they can handle in volume increase without distorting. There is nothing worse than being in a club DJing and just heading a loud rumble in your headphones as you turn them up. Whilst some DJs spend their entire set with their headphones on, so with that in mind it becomes quite important that they are comfortable. That they are not too heavy or tight else you could start to get headaches or just feel incredibly hot. Finally, if you do decide to buy budget headphones but DJ out regularly, you might find it a false economy as they are likely to break more easily. The old adage of you get what you pay for is very true when it comes down to DJ equipment, hence why Technics decks were always so expensive. Buying two pairs of £30 headphones that last a year apiece works out more than a £50 pair that lasts just two years, the math is simple.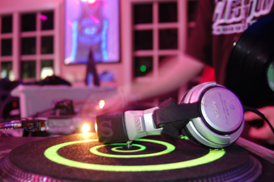 (C) three6ohchris CC BY 2.0 http://bit.ly/1RmRog7
£0-£25 : Sony MDRV150 Monitor Headphones
Sony do make very good budget headphones for the price and there is always plenty of choice at the lower end of the market. The thing to remember is that for less than £30 you are likely to have a pair of headphones that will not stand up to much abuse. So if you play out at parties or clubs a lot then they are unlikely to withstand much folding and opening up. Also, remember that when DJing out it's often quite likely that other forgetful DJs will want to use your headphones, and may not be so careful with your kit. The frequency range, as you might suspect, offers less than you would get with a more expensive pair of headphones, but if you only intend to play in your room or at small parties, these headphones would be more than good enough.
Frequency Range: 16-22000Hz
Sensitivity (dB/mW) 98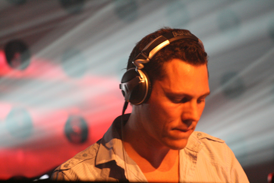 (C) Nestland CC BY 2.0 http://bit.ly/1RmQFLC
£25-£50 : AKG K67 Tiësto DJ Headphones
Having a world-famous DJ named after a pair of headphones is not always testament to them being high quality. Nevertheless, AKG have been around the block as far as acoustics and sound go. They were founded nearly 70 years ago, so that shows they know their stuff. The AKG K67 sit on the ear and are quite lightweight, as well as fold down to a small package which ticks many boxes for the travelling DJ. As you can imagine, as the prices goes up so does the frequency range expand. So with that the headphones become more adaptable in their use allowing you to hear a richer quality sound, also the level you can run them becomes more tolerant.
Frequency Range: 16-24000Hz Sensitivity 115dB SPL/V
Maximum input power: 500mW
£50-£75 : Shure SRH750 DJ Professional Headphones
Shure might be a name you more often associate with microphones but they do an awful lot more. These come with a very high bass response and extended highs. They are able to handle 3000mWs, whilst the range shifts gear to between 5-30000Hz, so well worth spending that extra £30 to remove distortion that you might suffer from the lower-mid range headphones. Again with the closed headphone design, any external noise is kept out ensuring you only hear what you need to.
Frequency Range: 5-30000Hz
Sensitivity (dB/mW) 106
Maximum input power: 3000mW
£75-£100 : Pioneer HDJ-700-K
Pioneer have increasingly become important players on the DJ scene, their mixers and CDJs dominate the club landscape, so it should follow that they would create DJ-friendly headphones. HDJ-700 is one of their newer products and certainly not the top of their list, but one that should sit nicely for those wanting a complete Pioneer experience.
Frequency Range: 5-28000Hz
Sensitivity (dB/mW) 105
Maximum input power: 2000mW
£100 upwards : Sennheiser HD8 DJ Headphones
Sennheiser have no shortage of choices for headphones, and pretty much at the top of the pile is their news HD8 set. As you would expect with Sennheiser, they are sleek, well designed and will feel comfortable on your precious ears. Costing as much as the other headphones featured in this blog post they are a big outlay. As we said earlier on, you only get what you pay for and with Sennheiser's reputation, you will be getting something that will serve you well when mixing the beats.
Frequency Range: 8-30000Hz
Sensitivity (dB/mW) 115
Maximum input power: 500mW
In conclusion
When buying headphones with the aim to DJ out, it is important to think of a legacy, that being your hearing. Anyone who has seen the comedy film 'It's All Gone Pete Tong' will know that the main character, a DJ called Frankie Wilde, played by Paul Kaye goes deaf. His deafness is caused by his continual exposure to loud music. Obviously attending and working in clubs will increase your chances of being exposed to noise pollution and therefore potential long-term damage. That can be negated somewhat by having a better pair of headphones, ones that cut out external noise, but also reduce the distortion you let through your on ear monitors. Ears are precious and once you lose your hearing it's gone, so if you love your music do your best to protect them. If you are a music lover who spends between £50 and £100 a month on music, do yourself a favour and put some of those funds towards a better pair of headphones; you will notice the difference.
Find music that will sound great through your headphones with Trackhunter
Got some thoughts on this post? Share them in the comments below