Interview with Matt Anniss - Author of Join The Future
Wednesday, February 12, 2020
by Tat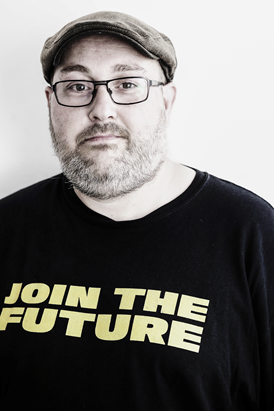 Dance music historians are often very keen to point out the various strands that stretch back throughout history to foundation genres and movements that helped shape the sounds we love. Disco as a foundation for House Music, Reggae sound systems and their MCs as the inspiration for early Hip Hop jams, the more you unearth the more you discover how a sound is born. In the UK, scenes have always been vibrant and enthusiastic but had often relied on their North Atlantic cousins for the drive, inspiration and the latest new sound, whether that was Electro, Techno or Acid House to name but a few. That all changed through many years of soaking up music originating in the U.S. as a journalist and writer Matt Anniss so perfectly captures in the release of 'Join The Future: Bleep Techno and the Birth of British Bass Music'. This extensively researched book includes countless interviews with the protagonists of a wholly UK electronic dance music scene that continues to help shape not only modern British music but producers worldwide. We spoke to Matt about his work and new compilation album to accompany the book.
You started the book with a short leap back in time to that special Boiler Room hosted night that took place in an old warehouse in Sheffield in 2018. It felt like the right location to celebrate three decades of Yorkshire bass and bleeps. In front of the veterans lurking in the shadows that night were hundreds of younger electronic music fans, do you think many knew how special that night was (beyond being at a Boiler Room night) and do they care in general about local dance music heritage?
That's a very good question. When I discovered that event was taking place I had to attend it, because it felt to me like an interesting juxtaposition between the past and present of dance music culture – a nod to where the Yorkshire scene, and Sheffield in particular, was during the Bleep era, while also a representation of what club culture has become for a new generation of listeners and clubbers. The response given to both Winston Hazel and George Evelyn of Nightmares on Wax from the younger members of the crowd when Boiler Room's MC announced them was very enthusiastic and suggested some were aware of their heritage and status as pioneers. I'm not sure whether they knew the night had extra significance – or at least it seemed that way for me, hence using it as the setting for the book's introduction – and plenty seemed more bothered about getting on camera than dancing hard. That said, since then a few people who run record shops in Yorkshire have told me that younger DJs and buyers can't get enough of Bleep and other older records made locally. It suggests that some have discovered the sounds that propelled the local scene 30 years ago. It's a natural progression for young DJs though – although I'd heard some Bleep tracks when I was a teenager growing up in Sheffield in the 1990s, it was a little later, a few years into my DJ journey, that I embraced the records and fell in love with the Bleep and Bass sound.
You wrote about Martin Williams AKA DJ Martin, who was instrumental in the production of early Bleep records but went largely unrecognized and in some cases poorly treated despite what he did for others. It seems to chime with so many other stories of emerging scenes, especially Chicago House in the 1980s. How did it feel to finally track him down in 2018?
I think it was one of the moments when the book really began to take shape. Martin had been mentioned in so many interviews, especially with Leeds DJs and producers, as someone who was crucial to the story. It was clear that he was someone who made things happen – a lynchpin of the scene in Chapeltown – and selflessly tried to assist others to make records with little thought of what was in it for him. Yet nobody had any idea what had happened to him, or even if he was alive. I wasn't sure, so turned detective to see if I could find out more. I spotted that he'd worked on one remix for Outer Rhythm Records with a guy called Homer Harriott, so I tried to track him down and find out more. Homer was happy to do an interview so I went and met him in Chapel Allerton. During the interview Homer detailed how he and Martin worked together and the extent of their influence, none of which was reflected in the credits of the records they made with and for others (their input was later corroborated by others I spoke to). I mentioned to Homer that I'd been told Martin had passed away. He laughed, said he'd spoken to Martin earlier in the day and offered to connect us. A day or two later I found myself sat in the same café with Martin, hearing his life story. He was so positive, modest and thoughtful, offering praise to those he worked with. It was the start of what has become a friendship. I try and speak to him regularly and each time I find out something new. He's still helping others and giving chances to those who need it. To me he's the hero of the story – an unheralded pioneer who doesn't seem to realize how important he was, or care whether he gets any credit for his work, I care though, and I feel proud that I've been able to make more aware of his contribution. Brilliantly he's started DJing again after a decade, which is great to see.
Forgemasters - Track With No Name
One of the great things about the Bleep and British Bass scenes is that they were very multicultural. How much of that was down to their geographical locations and emerging off the back of UK Soul and Electro movements?
That certainly played a big part in why they emerged. With a few exceptions, almost all the "first wave" Bleep & Bass producers lived in inner-city neighbourhoods in with big Caribbean (and in some cases South Asian) communities – places like Chapeltown in Leeds, Burngreave, Pitsmoor and Park Hill/Hyde Park in Sheffield and Manningham in Bradford. That meant growing up around soundsystem culture and Jamaican style after-hours "Blues" parties, even if they weren't particularly keen on dub and reggae (some, like Winston Hazel of Forgemasters, saw reggae as his parents' music and was more interested in new American forms of black music). Quite a few were also either "soul boys" or electro fanatics, with a large number being serious dancers on the 'all-dayer' circuit. Combine these influences – electro, dub and soundsystem culture – with the thrilling new sounds of Chicago house and Detroit techno and you have the essential ingredients of Bleep & Bass. Throw in their experiences growing up in multicultural working class areas and you start to see how and why the music emerged the way it did. As Rob Gordon says in the book, "Bleep wasn't black or white music – it was working people's music.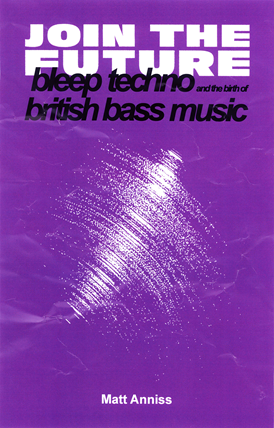 You've been writing about dance music since the 1990s, how challenging was this book compared to previous projects?
It's certainly the most epic project I've ever taken on, though I didn't realize it would be when I first decided that I had to write a book about Bleep & Bass. Normally as a music journalist you might work on a long article – like the ones that RBMA was so keen to run during its lifespan – for a few months at most. From start to finish, Join The Future took five years, and even longer if you include the earlier articles I wrote on Bleep for Juno Plus and Resident Advisor. One of the biggest issues I faced was the relative lack of documentation of the scene – because there were few articles on it and previous mentions in books were fleeting, I had to piece together the story, including the all important pre-history and context, from scratch. It was an insane amount of work but hugely enjoyable – transcribing all of the interviews aside – and the mammoth lengths I went to to document it properly, double-check everything and so on made the finished book much stronger. One academic recently told me I'd done more work than any PhD student would do for a thesis, so maybe that should be my next step. I quite like the idea of being a Doctor of Bleep!
You are an electronic music fan first and foremost, would it be fair to say this has been a pet project?
That would be pretty accurate. I was a prolific reader of music books when I was a teenager – and still am to be fair – so from the moment I headed off to study journalism, writing a book about electronic music culture was a dream. When I first mentioned my theory about the role of Bleep to people, and suggested I was going to write a book, most of them had doubts – not because they thought I couldn't write a book, but because they didn't share my obsession with the sound. I'll admit now that the fact that the bulk of the story takes place in the North and Midlands was another key factor in keeping me going – as a Yorkshireman myself I've always had a chip on my shoulder about British dance music history being written in a London-centric way, ignoring what happened elsewhere. So setting the record straight – or at least documenting overlooked aspects of Britain's dance music heritage – kept me going as much as my obsession with finding out everything I could about the scene and the people who made the records I love so much.
The early 1990s saw an incredible growth in bleep and bass record labels across the UK. Do think you Warp's dominance meant that some didn't get the credit they deserve?
That's certainly true to a degree. Warp dominated in part because it grew out of the scene that spawned the sound and staff at their record shop actively DJ'd all over Yorkshire. They had come across many of the early producers and it some cases battled against them as dancers or DJs. When they then started releasing records, they sounded better than anything else out there in UK dance music because co-founder Rob Gordon was a brilliant producer. Some of the labels launched in their wake were terrific though and certainly have been overlooked since. For example, BASSIC in Leeds didn't release that much, but the stuff made at their studio by DJ Martin and Ital Rockers, Ability II and Juno is incredible. Network in Birmingham was never a purist Bleep label but released some killer cuts and was the first to release compilations that showcased both original Detroit techno and new UK variants. Chill in Luton is another key label. Due to its location it drew influences from both London, the Midlands and the North, therefore neatly summing up the best things that were happening in UK dance music at that point. Many of the releases on Chill haven't stood the test of time that well, but some still sound superb.
Electro and variations of Rave have increasingly been returning to popularity over the last decade with incredible production and energy. Beyond the production quality, can you see any other changes as part of this trend?
This is a tricky one to answer. In certain ways there seems to be a longing within certain groups in dance music to rekindle something of the spirit that drove those sounds and scenes in the early days. Musically dance music has always mined its past – see the disco-house trend of the late 90s, Italian dream house a year or two back and so on – as new generations begin discovering music that was made ten, twenty or thirty years previously and then repurpose elements of it in their own DJ sets and productions. What seems different now is a longing to return to the energy and naivety of those early years of dance music culture, something that a generation raised on Boiler Room, instant access to vast music catalogues and YouTube missed out on. That can be done without playing records inspired by older music though – in fact, it's the groundbreaking futurism of that period that should be aped more in my opinion rather than the specific sounds. That's no criticism of anyone making records that sound like they could have been made between 1990 and 93 though – some of the cuts they're coming up with are killer.
The UK dance scene has rarely stood still and despite the recycling of some scenes, it continues to move forward. Where do you see it going in the next decade?
I have absolutely no idea, but that's a good thing – I'm 41 and as much as I love hearing new music and still DJ/go out dancing, the future should be written by fresh-faced newcomers who want to rip up the rule book and do things differently. I'll be eagerly awaiting developments and hope that the culture just gets stronger, particularly the underground side of it. It's always at the margins and away from the spotlight that the most exciting musical developments take place.
What is your next big project?
The next thing to look out for is Join The Future: UK Bleep & Bass 1988-91, the partner compilation to the book. It's taken a while to put together but will be out on JD Twitch's new label Cease & Desist – on vinyl and digital download – in April. That will contain a couple of unreleased tracks, some hard to find gems and cuts that I'd consider personal favourites. After that I'll be starting work on my next book, which will look at another overlooked aspect of UK dance music culture that's previously not been documented very well. I can't go into what that is just yet, but that's due on Velocity Press in 2021 or early 2022.
Find quality music first with Trackhunter
Got some thoughts on this post? Share them in the comments below