How to build a DJ profile part 2
Wednesday, June 17, 2015
by Tat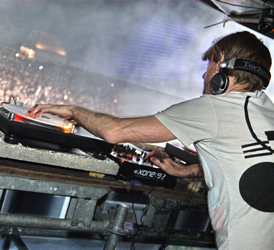 In the previous Trackhunter blog post we talked about the core elements of a successful DJ profile over the last four decades. The key components of building a DJ profile have not changed much in that time, from playing out, creating music, running nights and making mixes. What has changed is the evolution of the web, especially in the last ten years where anyone can host and create a variety of content with minimal web skills. There is no need to learn how to code Java or write HTML, although it doesn't hurt to learn. That said, for any DJ wanting to build their name on the web, time is better spent listening and buying music, practicing mixing, running nights, making tracks and of course promoting it all. Certain aspects will always involve hard work, there are few shortcuts to handing out flyers and running nights, unless you are happy to pay someone. Certainly one modern alternative is to offer a skill swap where you teach someone how to DJ in return for their web authoring skills. Web promotion does now offer a cheap and quick alternative to the old school methods. As with all of these blog posts, the purpose is not to teach you to suck eggs, nevertheless there are some basic principles some DJs must consider when trying to make a new on the web.
Make yourself found
The web has made it easier to find content, especially with things like semantic search that understands the meaning and context of a search term more than it did with earlier search engines. Secondly it means natural language searches can also retrieve useful and more accurate results. So being found on the web is better than it was back ten years ago, but it does not mean you can be lazy with your online persona. Make sure you stay consistent with your approach, stick to just one DJ name and where possible images and logos that help identify your work from others. Use tags for all of your mixes and content, that way people have a better chance of finding you. Always link your content between every active profile you own. So if you put a mix on Mixcloud, Tweet it, share it on Facebook and post it in the relevant forums. Provided you don't do this more than a couple times a week, it shouldn't make for much work.
Don't spread yourself thin.
There is a temptation with free social media and websites to go and use every one of them. Whilst it might make sense to maximise your output and post your mix on to every DJ and mix site, the chances are it won't. Getting your profile onto every social media platform, including those in other languages won't cost you money, but it will cost time, time you could be spending honing your music tastes and DJ skills. The problem is that social media and websites come and go, anyone remember MySpace and how big that was a decade ago? The chances are that in time even tools like Soundcloud and Mixcloud will be replaced by more popular host sites. Therefore the way forward is to pick your tools carefully and try to build your profile from there. The important thing to remember is that every tool has its limitation, therefore you'll need a mixture of platforms.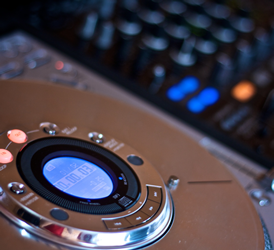 By Anderson Mncini CC BY 2.0 http://bit.ly/1GLqmft
The mix
When contacting promoters to get gigs, the two things they are most likely going to be interested in is firstly your DJing ability, whether that be mixing, edits, or scratching. Secondly your music style and taste to see whether it fits in with their night. They may on some occasions be interested to see what you look like, sad as it sounds, we know that some DJs get their gigs based on their good looks rather than mixes. Nevertheless it still is important to have a strong and uniformed profile, especially around your mix profile. Without wanting to use the term 'branded' it does help to build a profile that is consistent across the web and one that looks good. If you have a good quality camera or know a photographer it is worth having a proper photoshoot. This might seem a bit narcissistic, but look at any DJ making a living on the web, they have good quality profile images. Promoters will take you more seriously if it looks like you mean business. Whilst there are no shortage of hosting opportunities for your mixes and it certainly makes sense to start with the main platforms. These being SoundCloud and Mixcloud, with the latter gaining increasing popularity despite criticisms that users cannot download mixes. SoundCloud primarily is a single track hosting site, but many DJs use it to host their mixes too. The two restrictions with SoundCloud is the overall size of content you can upload with the free account and that they may ask you to take down copyright infringing materials. Another tool to watch out for is CloudDJ which is currently in beta stage, but you can sign up and start using it now. CloudDJ has a download option and looks somewhere between SoundCloud and Mixcloud. Three other notable mix hosting sites are Hearthis, Mixcrate and one that has been around for some time and has an active and supportive community called bmbx.
Find your niche
The web might seem a simple place to seek out information these days, but if you are one of 1000s of DJs trying to get heard then it can feel a bit like a jungle. So if you have a niche or specialist skill, such as playing rare tracks, delivering a specialist radio show or have unique DJ skills then it is important to exploit them. Making videos of your expertise, musical finds and mix sets alongside writing about them in a blog can bring about other people's attention. Many DJs have exploited niches, and on occasion novelty, although the latter usually results in shorter careers. If you have a special interest in a particular genre, scene or era, write about it and share your knowledge. Whilst creating niche mixes that focus on labels, scenes and eras are usually received more positively than the standard 60 minute mix of standard tracks. If you are at the cutting edge of music and buying the latest tracks as they come out, then turn them into podcasts or mixes. This way you have a better chance of building a following of listeners who want to hear the latest hot tracks that you have curated.
No one likes a spam DJ
The temptation with social media and other tools DJs can employ is that they can get over used, and invariably that means spamming follower's timelines with your content. They might go along with for a while, but eventually some will just switch off notifications, others will simply stop following. You might have lots of tracks you love that you want to share in your Facebook group or timeline, but post too many and most followers will unfollow your updates. A good option is to create a DJ Chart and share several tracks you're playing right now, rather than one after another. Juno and Beatport are two sites that will allow you to do this nice and easily. Also you can create playlists in YouTube, so again rather than post 10 tracks in your timeline, post just one that takes them to a playlist of your hot tracks. Twitter is a bit different, as people can Tweet many times in the course of one day, so if you want to share your mixes and tracks you discover, with such as the Trackhunter tool, then this is a more acceptable option.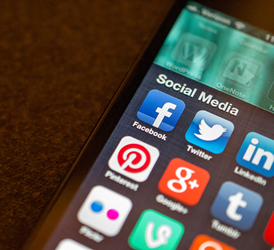 By Jason Howle CC BY 2.0 http://bit.ly/1G13FQt
Go where the people are
Gone are the days where like-minded souls searched around the web for similar people and interests. Social media aided better exchanges, so it is easier than ever to build your profile in the right place, rather than just wait for people to stumble onto you. If you are starting out it's important to seek out the active online communities you can participate in. A good place is to start in forums, especially those that are into the same music tastes as yourself, it's guaranteed that there will be one. A few of the more popular ones are listed at the bottom of this article, naturally there are thousands of music forums, the trick is picking one that has good netiquette, is actively daily, preferably hourly. Also remember that these forums are not just a broadcast tool, they are a form of two way communication. So as much as you would like to post nothing but your own updates, it is important to get involved in the conversation, else you'll pick up a reputation as a spammer.
Enjoy what you do
All of these technologies, given the right energy, application and time, will help build and shape a DJ career and profile. It will take time, but the main thing is to enjoy what you do and if it feels like a chore then it's probably time to scale it down or change tact. It might not feel like others are paying attention, but one thing's for certain, if you are a talented DJ you will get the break at some point as long as you apply yourself. The traditional routes of starting club nights and networking in person still remain the most important on the music scene when starting out. Making tracks has launched superstar DJs on the back of tracks and being online could lead to that first break. It is not impossible to build a following purely on the web, but potentially less practical. For example, you may build a profile based on superb technical skills, that are showcased on such as YouTube or Mixcloud. Eventually an agent or promoter contacts you to offer you a gig playing in a mid sized venue to 500 people. Compared to most DJs who start out, this would be considered a baptism of fire. This kind of first gig might turn out to be your last if you fail to perform once placed in front of a live crowd on a big sound system for the first time. As unlikely as this may seem, it is more possible thanks to the web. It is not a new phenomenon as DJs have long sent tape and CD demos to club promoters in the hope of playing more high profile and paid gigs from the comfort of their own bedroom. Djing is a competitive business, but the web is a useful tool for making yourself seen and heard. It doesn't have to cost much in time and money, as that is better spent buying music and mixing it together.
Check out the Trackhunter Podcast and get in touch if you'd like to be part of it
Useful forum links
Mix hosting
Got some thoughts on this post? Share them in the comments below