How to be a DJ and make it a successful career
Wednesday, May 20, 2015
by Tat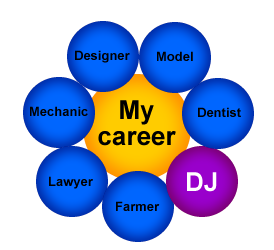 DJs often chose to become one by being in love with music, it might be a certain scene that ignites their passion or a set of tracks. Whilst of course there are those who do it purely for the sex, drugs and rock'n'roll lifestyle, or because their friends are DJs. Whilst a constant topic for discussion is the number of celebrities who do it because DJing is a popular way of boosting their rating even more. For those planning to be in it for the long haul, which might not be something prospective DJs think about at the beginning of their career it might be worth investigating why some DJs have stood the test of time and are as strong as they were two decades ago.
The universal love of music
For any DJ that wants to make a career out of their love of music it can be a competitive business. Scenes come, go, get revived, die and then reappear a decade later. With this waxing and waning many of the names that helped carry a movement from cradle to grave often disappear off the radar. Naturally there are strands of dance music and DJs that have prevailed throughout these changes, sometimes deviating away from their original source only to return at a later time to embrace a new audience. Take for example hip hop which evolved at a great pace throughout the 80s into its golden age lasting into the mid 1990s. The purer, cliche-free version of the genre has at times been decreed as dead only to return with new blood to push it forward. The same can be said of the mainstays of modern dance music, house and techno with their purer forms and sub-genres still played out to large audiences globally.
The technically brilliant DJ
There are plenty of technically good DJs out there, especially since the advent of digital DJing, but nevertheless tools that can help you beat match and mix do not always make up for laziness and lack of ability. A DJ who has stood the test of time and has maintained a consistently good output is John Digweed. Now a truly global DJ, he started like so many of his generation by spinning vinyl over 30 years ago and has since embraced digital. Digweed has always been in good company alongside the likes of technically gifted DJs such as Sasha. His ability to appear in yearly top DJ charts is no less aided by being regarded as a DJ's DJ by many of his contemporaries. Having his own club nights and record labels have all helped forge that quality, passion and above everything skill. In a crowded and competitive market, being on the top of your game ensures you stay in it for a long time. Researching and knowing your audience, music and kit all helps but above all it is about practice, practice, practice.
http://johndigweed.com
djrankings.com Ranking #86
The music encyclopaedia DJ
Having an in-depth knowledge of music can be a blessing and a pain, but for those who put that knowledge to good use do make it pay. Naturally the larger a music collection grows the more problems a DJ might have navigating it and deciding what to play. If you own 1000s of the best tracks it can be hard choosing which ones go in the record box or on the USB drive. One DJ who has consistently proved to be an evolving force and looks to the future and past in equal measure is Andrew Weatherall. Like Digweed, Weatherall is someone that their peers regard with high admiration. Building his career as a fanzine writer, remixer and producer, Weatherall was very much part of the fledgling balearic and house scenes of the late 80s and late 90s. Often labelled as a techno DJ, Lord Sabre's tastes are hugely diverse as can be his DJ sets. Rockabilly, reggae, dub, experimental and ambient are often heard intertwined in his mixes which often leave trainspotters hunting for tracklists. It can take time to build up such a knowledge but any DJ with a true unconditional love of music will find it happens part by osmosis and listening to a lot of music; but more importantly by connecting with other open-minded DJs and music lovers and not being scared to experiment and venture off the beaten path.
http://www.rottersgolfclub.com
djrankings.com Ranking #2413
The adaptable DJ
Despite it being an apparently fictional quote by English naturalist and geologist Charles Darwin, the survival of the fittest is not the fastest or strongest but the one that is adaptable to change. True or false, it can be said some of the DJs who have stood the test of time have done so by adapting to the ever-changing club and dance environment. Dance music evolves so fast that before some DJs know it, the scene they invested so much time and effort in has been exhausted of energy and followers. One minute you can be playing lucrative specialist clubs, the next you are listing your collection on Discogs at 50p a record, does anyone remember Hardbag or Bouncy Techno? This is not to say that being a one or two genre DJ is a bad thing, but more often than not it starts to close avenues of career progression at some point. There are a certain number of DJs who are capable of transcending multiple scenes. An example of a DJ who has adapted to change is Carl Cox who began his career playing rare groove, hip hop and electro before breaking through thanks to the hardcore and rave scenes. As the scene evolved into the 1990s various DJs diversified into jungle, happy hardcore, house and techno with Cox choosing to follow the latter. Since then Cox has not looked back as a successful label boss, radio presenter and of course one of the biggest names on the club circuit.
http://www.carlcox.com
djrankings.com Ranking #41
The crowd pleaser DJ
A great example of this and probably the first of the post-acid house and rave superstar DJs is that of Norman Cook alter-ego, Fatboy Slim. With a music CV that reads The Housemartins, Beats International and Freak Power, it was obvious Cook was never going to be straightforward as a DJ. His sets are often a collection of high-octane, maximum fun party tracks dropped one after another that would get even the biggest of wallflowers onto the floor. At a time when most other DJs were trying to look cool and serious, a crowd-pleaser like Cook was there to have as much a party as the crowd. When he broke through into the mainstream via his Big Beach Boutique event and played a set on The Other Stage at Glastonbury, huge audiences were able to see his larger than life persona behind the decks. Much of his posturing, jumping and pointing has been copied a million times by the generation of populist DJs who followed.
http://www.fatboyslim.net
djrankings.com Ranking #99
The pioneer DJ - Will you be the next one?
We are not talking about the audio technology company but DJs who have done something to start or kick the scene forward in a big way. It isn't so easy to spot what makes these seminal characters and offer advice how you become one of them. For those willing to take a chance and try something different, that isn't just about sheer novelty, although that can pay off. And whilst it might not be so easy to be a pioneer DJ in the days of the Web it does happen and the rewards can be great. Anything from a guaranteed run of bookings and the financial rewards to creating a potential legacy and building a legendary status. This is not to say once you've found that hook on which to hang your career on as pioneering DJs always have to maintain a good standard of quality. Nevertheless you will always find posts on the web about legendary DJs who have done the bare minimum to pick their pay cheque. Groundbreakers such as Grandmaster Flash, DJ Cash Money, DJ Alfredo, Larry Levan, Kool Herc and Ron Hardy are just a few of the names that can claim their status as pioneers.
Discover music to be the kind of DJ you want to be with Trackhunter
Got some thoughts on this post? Share them in the comments below