Get your dance music pressed onto vinyl with these crowdfunding services
Wednesday, November 15, 2017
by Tat

(C) Kickstarter
Vinyl's return to popularity continues to grow over the past decade as many dance and electronic labels and artists return to the original DJ format. This rise in esteem was highlighted a week ago when the popular UK supermarket chain Sainsbury's announcement that they were setting up their own record label. Whether such a populist move proves beneficial to the sector and for Sainsbury's only time will tell. The labels, artists and stores that stayed loyal to the format will watch with caution as the major supermarket chains were one reason for the demise of the independents in the 1990s. More music on vinyl can be a good thing if the quality is there and for many DJs and the dance community who have remained loyal to their discs with a stack of new records out each week.
There have been various stories of record plants reopening and new additions to the cottage industry as the demand for fresh vinyl exceeds the ability to press it. Resident Advisor reported new vinyl pressing plants opening in the Bay Area of California, one in Virginia, one in Berlin and another Down Under in Australia. Whilst the big boys Sony Music have plans to open a vinyl factory in Japan in 2018. With all this growing attention and an increase to match capacity for the many artists wanting their music on a black shiny disc, in particular for Record Store Day, it opens up fresh possibilities for independent artists to get their music pressed.
At Trackhunter, we thought we would look at a few options for getting your own music onto vinyl beyond the traditional methods. There are various services for pressing one offs, limited runs and of course bigger volume above a couple of hundred records. As with any kind of service like this, the more you order - the cheaper it gets. With some of the platforms below you do have the option to start with a fairly low number and at least have a safety net should demand be lower than you anticipate. The services are a great way to get your music out to wider audiences in a format they can hold in their hands. Some services will also help with distribution and there is also the option of self releasing your music onto Bandcamp, or submitting it to marketplaces such as Juno, both of which are searched by Trackhunter.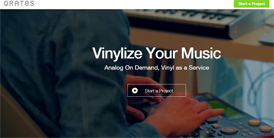 (C) Qrates
Qrates
The cool named Qrates provides an on demand service for pressing your music onto vinyl. The system works on a crowdfunded basis as records are pressed with a minimum order of 100 units. The site states it is totally risk free and has no impact on inventory as records are pressed on demand, so a label or artist is not left with hundreds of records in boxes gathering dust. With Qrates you can order as little as 100 records which compared to most industry pressing plants which is usually 300-500 pieces of vinyl. Whilst the site also gives you the option to design your record and sleeve giving you total control over your release. The platform is also a marketplace for projects hoping to get off the ground by hosting potential releases that fans can pledge funds to via credit card or Paypal. Once a project receives its quota of pledges the record can go onto be pressed and mailed out to everyone individually. This removes another major anxiety for artists and small labels who often struggle to get a distributor to take their work on the road. In effect the site is like a Bandcamp that goes a bit further to creating the physical product and mailing it out to everyone. Mailouts are sent from Japan, France and the UK, so sellers can press and send their vinyl from the location of their choice depending on their fan base.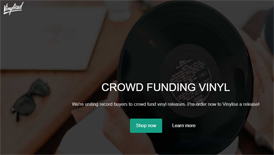 (C) Vinylised
Vinylised
Vinylised is another impressive looking venture that allows artists to press their own vinyl with crowdfunded support. It has a very simple system that allows fans and labels to press their vinyl based on whether it reaches the minimum number of pre orders. The site again focuses on fans by allowing them to back releases they want to see on vinyl and supports the labels and artists in achieving that dream. Like Qrates, the site has a marketplace for music lovers to search and pre order records they want pressing. Releases have a number target it must reach before pressing and sets a date to achieve that goal. The rarity of these releases is also highlighted by the individually hand stamped records. Imagine buying a limited pressing from an artist who later goes on to sell millions, some of these releases could turn into pure gold. Once a record is backed it is recorded onto a test pressing and once that is satisfactory it is sent for final release. At present the site does not have a lot of releases but there is an option to suggest releases for funding.
Kickstarter
The best known crowdfunding site is also geared up to help artists get their music delivered in a variety of formats, not just vinyl. The variety of electronic and dance music-related projects stretch beyond audio releases. Funders can back anything from art projects to live events, so there is a lot to search through to find great music; especially with over 2,000 projects currently wanting attention. Unlike the other sites, Kickstarter doesn't produce or press the music but helps funding be sourced for worthy artists to get their music out there in whatever format they offer.
https://www.kickstarter.com/discover/categories/music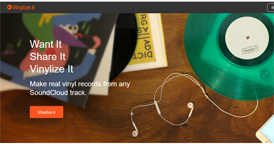 (C) Vinylize.it
Vinylize.it
Vinylize.it is created by the team behind the aforementioned Qrates and this simple model allows music lovers to notify their favourite Soundcloud artists of tracks they would like to see on vinyl. Soundcloud is a treasure trove of great unreleased tracks, remixes and re-edits. The only sticking problem is that many of the re-edits would struggle to be pressed due to licensing issues as many of the original artists don't realise their tracks have been retouched, remixed and remastered. Nevertheless there are loads of great tracks on Soundcloud that would be great to own on vinyl and this site allows fans to at least send some love to their favourite artists in the hope they transfer their tracks onto plastic.
There other existing options of getting your music pressed onto vinyl and CD from one offs to greater numbers. It is a competitive market and wise to shop around whether you are pressing a private copy of some tracks or looking for a big run above a few hundred. The sites we've featured are a worthwhile addition to the existing models of music production in that they could help some artists get a leg up onto a visible plateau that also includes the superb Bandcamp marketplace. As with most music marketplaces there will be issues with quality control, many of the projects proposed won't be good enough for a physical release. Those projects that do get funded will have received backing and support and earned the producers and musicians much appreciated funds. In an age where artists struggle to get paid that cannot be a bad thing.
For those tracks you can't get on vinyl, use Trackhunter
Got some thoughts on this post? Share them in the comments below