Four women who shaped dance and electronic music
Friday, May 6, 2016
by Tat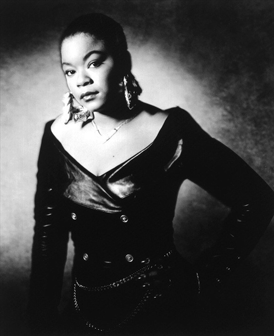 In this latest Trackhunter Blog post we take a look at some of the unsung heroes of dance music who are often ignored, not acknowledged or even treated with the same esteem as their peers. We are talking about the women of electronic and dance music, those creative souls who care no less than their male peers about dance music but have often received less recognition. Women that have been prepared to go that extra mile to push the music we all love and care for. Let's hear it for the girls!
Breaking the monopoly
DJing and dance music in general is...well, quite blokey, it very much can come across as a man's world. Men have dominated dance music from behind the decks and within the studio but that is not to say that women have had big parts to play in the world electronic music. Northern soul, disco, acid house, coming right up to the modern scenes have been monopolised by male promoters, DJs, producers and record label owners. Perhaps there is something in our psyche, that of the hunter-gatherer, that we hunt down tracks and then play them to impress the rest of our respective tribe. Maybe it was part down to the fact that men are only stupid enough to spend all their spare time and money tracking music down or building studios up. Nevertheless things have changed for the better in recent years as more female DJs and producers gain the confidence to go toe to toe with their male counterparts. We thought we would pick one MC, DJ, label owner and music producer that we regard as true innovators in their own fields.
Roxanne Shanté
Roxanne Shanté broke the mould when she appeared on the hip hop scene in New York in 1984. Until then there had been female rappers, all of them very competent and skillful, but Roxanne took it all to another level as she unleashed fierce rhymes for someone who was only just a teenager. Working with the legendary producer Marley Marl, Roxanne aimed her vitriol at fellow hip hop act UTFO after they created a track dissing a fictional character by the name of Roxanne. The foursome then came back with the aid of another female rapper called The Real Roxanne which created one of the famous hip hop spats of all time. Roxanne Shanté (real name Lolita Shanté Gooden) was by then in full flow, producing hot single after another with classic tracks 'Bite This' and 'Have a Nice Day' probably being the stand outs. Roxanne had one of the most unique and definitive voices in hip hop and her tracks and rap style have inspired the generations of female rappers who have followed.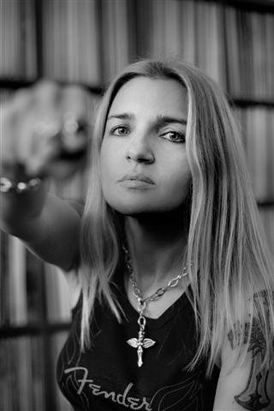 Miss Djax
Anyone who was into the sounds coming out of Chicago and Detroit in the early to mid nineties would have been very aware of a Dutch label releasing seminal material from U.S. artists of this ilk. Miss Djax AKA Saskia Slegers ran one of the finest imprints of house and techno anywhere in the world. Djax Up Beats released a wealth of tracks over the course of 15 years and has in recent years still put out the odd release. Respected U.S. house artists such as Mike Dunn, K-Alexi, Ron Trent and Glenn Underground, were just a few of the big names to licence material on Slegers' label. Smaller sub-labels were started and there was no shortage of material, making Miss Djax one of the busiest electronic label owners at that time. When Djax started there was the odd female DJ and label owner on the scene, and you mostly heard and saw a women associated with dance music as a vocalists on releases. Miss Djax - who is still actively producing music and DJing - not only raised the flag for female label owners but also raised the standard for running a quality dance music label.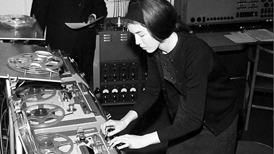 Delia Derbyshire
Whenever you read any articles about female innovators in electronic music, or music in general, you do not have to go far before Delia's name comes up. Delia Derbyshire truly was an innovator in every sense of the word, and even though the sounds she made over half a century ago might seem a million miles from the dance music of today, Delia's creations have inspired thousands of producers. Delia came to fame as part of the creative geniuses at the BBC Radiophonic Workshop. Along with classic futuristic theme tunes such as Dr Who, Derbyshire made a track that was literally techno twenty years before it appeared anywhere else. Paul Hartnoll of Orbital referred to the track in a BBC interview as it: "Could be coming out next week on [left-field dance label] Warp Records". The track in question can be heard on the link below. Derbyshire's influence is far and wide and you can hear it in everything from electronica to heavy techno, she literally was years ahead of everyone.
Delia Derbyshire's techno-tinged track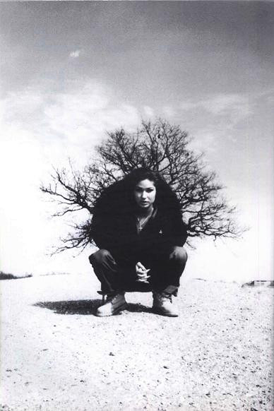 DJ Rap
There have been many other female DJs and Rap (real name Charisso Saverio) certainly was not the first. In the early UK house and balearic scenes, DJs such as Lisa Loud and Nancy Noise held their own alongside the wealth of London-based DJs and producers. Loud and Noise were a vanguard of female DJs that helped address some of the imbalance of all male DJs and club runners. Rap however had a different issue as jungle and drum and bass was not only virtually all male, but very testosterone driven. Other female drum and bass DJs made big impacts, most notably Kemistry and Storm; but Rap's rise to fame ensured a much bigger international audience could see for themselves there was such things as female DJs. Until then most clubbers and dance music lovers had been exposed to male only DJs. Rap's exposure was enough to show many aspiring female DJs that it could be done. Of course other female DJs had been forging their own career paths for some time, but with little commercial exposure it meant very little beyond their own smaller communities. As we said at the start, there have been more female DJs and more now than there has ever been. Part testament to DJs like Rap who broke through into the particularly male-dominated scene of drum and bass, which makes her achievement even more important.
There are now many female DJs, and growing numbers of producers, but the business end of dance music still remains heavily dominated by men. To some extent it will remain male dominated for the future, as there is something about collecting and making dance music that is part of the male sense of collecting and belonging. Men like to buy tracks and talk to other men about them, often late into the dark hours. Of course women carry out the same rituals, but in much smaller numbers,although it all could change. Innovators like the ones above are a reminder that women can break moulds and hold their own in an industry run by men. We have to applaud them and ensure more of their kind are given equal opportunities to explore such ventures, as we all win.
Find music from women in dance music with Trackhunter on Mac, iOS or Windows
Got some thoughts on this post? Share them in the comments below