Essential music TV box sets
Wednesday, July 3, 2019
by Tat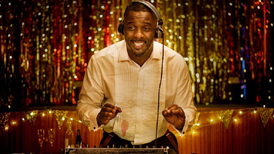 If ever you wanted an indicator of how big urban and dance music has impacted modern society then you only have to look towards mainstream TV to get a measure of this. Recent years we've seen full scale orchestras take on such as Jeff Mills techno and Hacienda classics, whilst TV is always making nods at DJ, dance and hip hop culture. Dance music and hip hop have grown so much that they have been the subject of fictional TV series that go beyond the traditional documentary format. At Trackhunter we want share with you four superb series that capture the vibe of DJ culture, pirate radio, roots of hip hop and modern day rap. Here are four box sets that are worth the time investment if you love dance and rap music. The following article does not contain any spoilers.
Turn Up Charlie - Netflix - 2019 (one season)
Netflix has got a good track record in commissioning high quality cultural series with The Get Down as a fine example that we'll look at later. Turn Up Charlie is the older, cooler brother to People Just Do Nothing as both series backstories capture the long descent of a scene and the characters working, and often failing, to adapt to the constant change within dance music. In this case we're talking about garage house, which of course is alive and kicking but doesn't have the limelight like it did in the late 1990s.. Idris Elba plays Charlie and the series is a snapshot of what it is like to be a DJ and producer who fails to capitalise on making it to the big time following the success of releasing their own anthem. Elba is the real deal and a bonafide DJ with pedigree and is perfect for the part and no doubt will have relished his part. It's no surprise that he is the co creator and there is certainly more scope for a follow up. We meet Elba as he DJs fairly anonymously whilst still living with his aunty and trying to just get by with no money but a passion for music. It's a great story of past glory and redemption where our flawed main character stumbles to try and have one last go at trying to get to the top of dance music's competitive pile.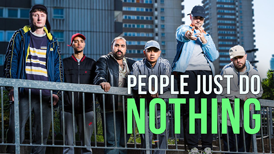 People Just Do Nothing - BBC - 2014 (five seasons)
I've spoken to a few people who have struggled with People Just Do Nothing and frankly it seems that it's really their loss. Most people I know really love it and with an impressive score of 8.5 on IMDB, it is a fantastic comedy that revolves around the fictional Brentford pirate radio station Kurupt FM. Created as a mockumentary it is hilarious from the start as we get to know the larger than life characters MC Grindah, DJ Beats, Steves, Decoy and their shambolic manager Chabuddy G. Written by Grindah, Steves and Chabuddy G it has managed an epic five series so far and countless other cameos from the cast on TV. You would be fooled in thinking that they have padded the material given they have amounted up to 27 episodes but you would be wrong. Much of the action takes place in Steve's gran's old flat as the crew broadcast across the airwaves, take on rival stations, launch their own garage night as well as clumsily manage domestic life with their partners and families. There is a real innocence about People Just Do Nothing, and for anyone who has ever broadcast from a pop up pirate radio station will be familiar with the decor, old settees and boarded up walls and windows. My advice is tune into Kurupt FM for a few times and see what you think, once you get to know the characters you'll be hooked for the full duration.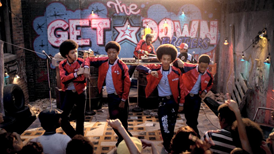 The Get Down - Netflix - 2016-2017 (two seasons)
Certainly the biggest budget out of the four features series with a large cast, authentic scenes and plenty for hip hop and disco historians to get their teeth into. Set in the late 1970s Bronx it captures the emerging hip hop scene and the four elements of rapping, DJing, graffiti and breakdancing. It also shows the connection between hip hop and disco in the form of a love story between an emerging disco diva and rap star on the tough New York streets. The series straddles fact and fiction as we meet real life characters like Grandmaster Flash and witness DJs, dancers and rappers throwing down at the first block parties. The story is credible and well executed with a realistic backdrop of graffiti, breakdancing, rapping and DJing. For those who are real historians of the scene, it's a great production that sews together a very important timeline for black and urban music.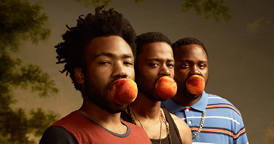 Atlanta - BBC/Amazon Prime - 2016-2018 (two seasons)
Not a dance music series per say but the subtle and pedestrian American series Atlanta has modern day rap culture intertwined within. Focusing on the main character of Earn and his cousin Alfred as they try and make their way through life in the city of Atlanta. Written and starring Donald Glover (no relation to Danny) the series touches on many of the perennial social issues facing the Afro-American community. Earn's attempt to piggyback on his cousin's success as a rap star under the name of Paper Boi. It's Paper Boi's self titled hit that often appears within the series as he attempts to juggle breaking through into full rap superstar status and hustling as a weed dealer. The highest rated of the four series, it chimes a little with Ice Cube's seminal film Friday, with less slapstick humour and more social commentary. Atlanta achieves a good balance, character evolution and has potential to run for many years to come.
Find quality music first with Trackhunter
Got some thoughts on this post? Share them in the comments below