Dance music comes of age
Wednesday, May 3, 2017
by Tat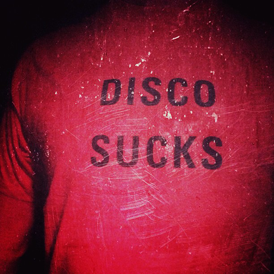 Dance music and to some extent electronic music has always struggled to gain widespread acceptance in the wider music world. For a long time the same was true about hip hop and to a point it still it is not seen by many as 'proper' music. Dance music has always been regarded as 'body music' rather than real music driven by lyrics, stories or musicianship. It is the black sheep of the family that usually comes out after hours or at a house party or wedding. Of course much dance music has long been commercial in that it sells lots of units, appears high up in pop charts, in our popular culture and your uncle or auntie might like the odd bit of Clubland or Kayne West to show they are down with the kids. Yet despite widespread commercial appeal going back to the 1970s with the likes of disco and the film 'Saturday Night Fever' and hip hop in Eminem's film '8 Mile', it has still seems like something not substantial or proper enough to sit at the high table of popular music. Of course some electronic and dance music fans would rightly disagree in that it is treated the same. It all came to a head in 1979 when loads of disco records were blown up and destroyed at the Disco Demolition Night at a baseball game between the Chicago White Sox and the Detroit Tigers. This was rock fans getting back at a form of music that they saw as inferior. Dance music can deliver many things traditional rock and pop can do whether that be storytelling, musicianship and live performances. We thought we would look at a few examples where dance music has gained acceptance and showed that it is more than just a hedonistic youth culture but something much more than that now.
The image of dance music
On the outside dance culture is a writhing pattern of computer driven drum loops and sounds, late nights fuelled by excess and little respect for the status quo. Of course much of dance music is just that - and rightly so - for periods of its history it has been driven by struggles such as sexual equality, protest caused by the criminalisation of illegal raves and issues around drug use. Dance music has never been far away from the headlines around illegal drug use as part of its culture, yet the same focus of attention has not been given to other more accepted music scenes. The anti establishment element of dance music is crucial as it has always been driven by the younger members of the community. Naturally many young DJs, promoters and clubbers go on to become old DJs, promoters and clubbers with many setting up their own successful businesses. Despite their power and control over large parts of the scene, it remains invariably for the younger, fresher, more creative members to really drive things forward. Also dance music is made primarily for dancing and good times of course, so thinking about complex lyrics and music production may be detrimental to a dance track. Many dance tracks have lyrical elements and some of the greatest songs ever produced are lyrically-driven dance tracks, one good example being Alison Limerick's 'Where Love Lives'. It is a beautiful piece of music that does not lose any of the power and energy to drive a dancefloor into a state of ecstasy whilst still telling a heartfelt story. To some extent some of the ways dance music has impacted beyond its own musical bubble will only be of interest to those still within it. Nevertheless the examples below are a few of the ones where dance music has impacted beyond that audience, whether it be the music professionals or listeners.
The indie crossover
As with mods and rockers and other such tribes, the indie and the dance music fans of the 1980s rarely had a word to say to each other. It can be summed up by by an indie music loving friend of mine in the 1990s who said quite succinctly that 'Fatboy Slim was hip hop for people who didn't like hip hop'. He was right to some extent, and dance and electronic music was something many people enjoyed on drugs and other types of music like indie when they were not high. Yet the crossover changed that as a dance beat and psychedelic, trippy influence started to seep into traditional guitar music once again after the advent of acid house. Thousands of mop-topped, baggy jeaned indie fans soon found they were swaying to sounds that had either a four on the floor or some kind of dance rhythm as indie dance was born. Established indie band Primal Scream were a classic example of what new audiences could be reached by the introduction of a dance influence. DJs Andrew Weatherall and Terry Farley took on production duties for the classic Screamadelica album which also touched onto other genres around gospel and dub. The album was the first to win the Mercury Music Prize in 1992 and has sold over three million copies since. Other indie bands reached into the dance influences at the time and spanned two huge fan bases in the dance and indie camps. The Happy Mondays tracks Wrote for Luck and Flowered Up's Weekender were just a few of the great crossovers at the time. Bands who had flirted with dance music ideas for some time soon went full kilter with the likes of The KLF and Shamen both reaching the top of the charts with what were wholly dance tracks but would appeal to the indie camp.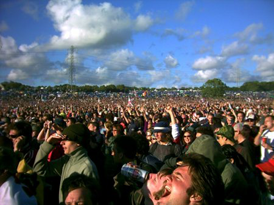 Louise McLaren CC BY 2.0 http://bit.ly/2oThO06
The Big Tent
Glastonbury Festival is the greatest contemporary performing arts festival in the world. Starting in 1970, it would take over 20 years before dance music permeated the festival in a formal way despite sound systems and late night dance tents popping up on the fly through the course of the next twenty or so years years. Acid house had passed by and the rave scene was very fragmented when Michael Eavis and family decided to take the plunge in 1994 and put Orbital on stage as one of the top billing acts. This was a radical step for festival that was reliant on guitar bands to deliver their main performances. Orbital's incredible performance was instrumental in shifting opinion as a year later the festival unveiled its very own dance tent which could accommodate 1500 people. Years later the tent evolved to its own stage and was renamed Silver Hayes. This space has now expanded into a village and to a capacity of 15-20,000 people. Glastonbury Festival is one of the finest and best examples of how dance music had been knocking on a door to get in and just had to bide its time.
Orchestral Manoeuvres in the Dark
Dance music is made for the dance floor and therefore many of the tracks produced, good or bad, will be simple, effective and in time forgotten. In among all of the thousands classics across genres that are produced some have been given a new life by new live orchestral versions. Disco and Northern Soul were very much at ease with the use of classical strings as part of their music arrangements in the 1970s. Disco was positively enhanced by sweet sounding, dramatically atmospheric strings and chords. Yet much of that sound was stripped away when the 808 and 909 drum machines started to take over the scene. Once house music and techno had proved it was here to stay in the longer term, talented producers and DJs set about exploring a return to classical. Two such protagonists were Jeff Mills and Laurent Garnier. Mills had long shown an interest in adding orchestral elements to his music and productions and this was highlighted in 2000 with his release of Metropolis based on Fritz Lang's film of the same name. In 2007 he performed with Montpelier Philharmonic Orchestra and in 2015 performed with the NNC Symphony Orchestra at The Barbican. Whilst Laurent Garnier would help set wheels in motion and deliver Acid Eiffel accompanied with violin and live percussion in front of a large audience at an award ceremony in 1998 over in France.
Jeff Mills and Montpellier Philarmonic Orchestra Live
Laurent Garnier - Acid Eiffel (Live)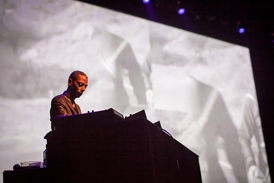 Southbank Centre CC BY 2.0 http://bit.ly/2oTbs0N
Modern Classical
Since Mills and Garnier's experiments with taking house music and techno into the realms of classical things have developed somewhat. Huge audiences sell out venues to see Hacienda classics played by a full orchestra. HAC 51 favourites such as Rich in Paradise, Strings of Life and Voodoo Ray are given a new life and help show that this music was more than it seemed to those looking in from the outside. Finally dance music had truly come of age. The 65 piece Heritage Orchestra joined with dance music stalwart Pete Tong delivered their own set of beautifully enhanced classical house tracks. Whilst much of the interest will come from old ravers now the other side of 40, it does entice new audiences. Those too young to experience the Hacienda and other legendary nights can now hear the tracks in a new way, whilst classical music fans are also drawn to a whole new catalogue of music that is exciting, grown up and very fresh.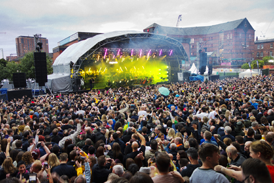 Rachel Docherty CC BY 2.0 http://bit.ly/2oTaLor
Onwards and upwards
Out of all the music scenes and tribes, dance music is one where people either take it or leave it, they have to be in the mood for it. Whilst real dance and electronic music fans stay loyal to the scene and explore new sounds, there will always be those who dip in and out. The examples above are where dance music showed it was more than just computer driven drug music that was a poor relation to the established, maturer sounds of guitar and classical. With those incursions such as Glastonbury, crossovers into indie dance and collaborations with big bands and classical, dance music has captured new audiences. These people may not have stood upon a podium in a sweaty, intense club, but they may have learned that much of the music that is produced has merit, is not throwable and is here to stay as an established part of popular culture. Long may that continue
Use Trackhunter to find classical digital dance music
Got some thoughts on this post? Share them in the comments below