An interview with the infamous Wax Nerds collective
Wednesday, August 28, 2019
by Tat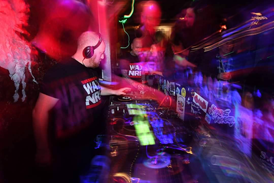 Following on from last month's Trackhunter feature on the first real wave of British Hip Hop we leap forward three decades to a collective of DJs and producers from the infamous Wax Nerds collective. The group's passion for dancefloor friendly B Boy breaks and pure funked up Hip Hop has been gaining attention after starting life five years ago. At Trackhunter HQ we caught up with Wax Nerds crew member Sam Tweaks to discuss the label, crate DJing and a lifelong passionate for authentic, pure Hip Hop.
How did Waxnerds come about and for the uninitiated what is a Waxnerd?
The official line is this; A single-minded expert in a particular musical field. "A Wax nerd" We're a group of like minded individuals bought together by a common love for all things vinyl related.
Who are the people behind the label and collective?
It was started by Mark-One (in 2014) as an Instagram chat group that ultimately decided to release some records - Jamez Gant, Matt Love, Mark One got the label up and running. Pooky, Danny Bounce, Tommy T, Dan Ball, Nic "Goodlife" Mayer and Mark Newby brought the first few to the fore.
There's an obvious community feel about Waxnerds, do you all go way back?
Nope - it's all the mutual love of vinyl, general brotherhood of vinyl DJ'ing and the ability to take and distribute abuse on a social media chat group. That and the obvious, did we really meet on social media and actually get on? - like a vinyl Tinder ha ha.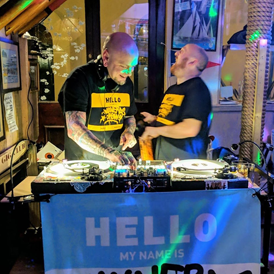 Waxnerds have championed the 7 inch single but there is a real fascination with the format within the Hip Hop community, is this just a British thing or goes further afield?
The likes of 45Live have championed the 7" single for quite some time - in my opinion its a combination of the modern ear wanting fast song changes, short edits, obvious DJ technique you can watch (or film on your phone) and that DJing 45s is hard so the technical appreciation is there from the off from all parties.
The love of the 45 is world-wide - DJ Mr Lob (Australia) Mark James (Brazil) Flipout (Canada) are all Waxnerds crew plus the likes of DJ Koko, Jazzy Jeff, Nu-Mark, Edan, Scratch Bastid et al are all spinning 45s regular. It's a worldwide phenomenon driven by social media, the lack of 7" familiarity (these days) and the genuine unreal skill of some amazing DJs.
Is there much competition between crew members to find the best tracks and breaks when you get together to DJ?
Nope - For me it's genuine love for DJing on vinyl and hearing something you have not heard before.
Sites like Discogs has changed how we search and buy music, what impact has that had on Hip Hop DJs whose reputation can be built on seeking out the best samples and breaks?
Personally for me it's still a who's the player game with regards to breaking breaks - if a well known, well respected DJ (or tastemaker) drops a tune it has way more creedence (or street cred) than your average guy "discovering" a break. However due to the advent of the internet anyone with some kind of computer ability can make an amazing tune from anything then it's levelled the playing field to some degree. It's what you do with the break as much as the discovery of it. If the tune is shit - who cares what the break is?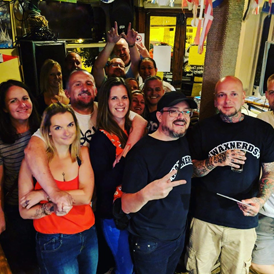 You've been DJing a long time, how did you get into it and who inspired you along the way?
Ha Ha - so to my mind I'm from a very different demographic to most Hip Hop vinyl DJs who are affiliated with the UK Hip Hop and 45s scene - my first "real" gig was my father 40th birthday party in 1992 (I was 15) and I've packed dance floors ever since. I have no dislike for most musical genres and love to make people dance. For me it's all about the combined sharing of magical dance floor moments and the euphoria that is associated with it. I'm probably a little different to most that I managed to be oblivious (or too young) to the 80's breakdance and Hip Hop beginning. I was a full on raver and watching the likes of Graeme Park, Luvdup and Alasitair Whitehead dropping banging rave and house tunes with technical finesse was my grounding - that and the blatant party DJ style of Ratpack, SL2 and Sasha. The standard commercial rave and dance CDs inspired me to want to mix tunes together.
I will however advertise the fact that I used to get ridiculed for championing the 45 back in the early 90s at raves - I liked the immediacy of the mix with 45s and the crowd reaction - in comparison to most I have a relatively small 12" collection however I have always loved the 45.
I got into Hip Hop and breaks via Northern Soul - as a long time lover of the 45, the Northern scene stood out to me in the early 00s as the one place I could still DJ vinyl and on 45. It had it all - upbeat tunes, dance floors, dancers going crazy, vinyl 45s and songs I needed to discover. However soon I was frustrated as the scene is very opinionated and against any vinyl manipulation, beat matching and scratching (which I am still awful at) and I craved that need to give the punter something more than just playing a 45. Slowly the Hip Hop community brought me in as they have that honour and respect for the sample the song they love came from, which is sorely missing in the House music scene. That brought me into where I DJ now.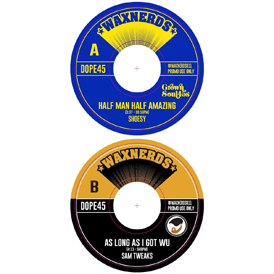 It's been very easy for people to dismiss pure Hip Hop culture and talk of its 'apparent' demise in recent years with Grime, Trap and Mumble Rap taking much of the limelight? But where is Hip Hop at in 2019 and how connected are the four/five elements?
Press and media bollocks for me, if music doesn't diversify, change and evolve its dead. The current dance House music scene (which is my grounding) is the same 4/4 to the floor I loved 30 years ago with Glitterbox trying to add that sense of history to House music (but probably just selling Ibiza to my generation who can still function at 3am) it has hardly changed and for me its very stagnant. We may not all like Mumble Rap, Trap or Grime but at least it keeps moving Hip Hop music forwards. If it did not move forwards it would cease to be.
In addition to that for me if the music is good who cares what "box" its filed under? There isn't a respected 45s DJ who doesn't play Rock, Soul, Funk, Disco, Breaks, Dance, Acid, Psyche, Hip Hop, Rap, French House etc in their set. Music is there to make you emote - if you like it who cares what, who or how you hear it? 45s DJing is a show for people to watch, listen, enjoy and Shazam!
Outside of Hip Hop, the DJ scratch seems to have largely disappeared, when it was often in House, Rave and Techno sets, do you think DJs outside of Hip Hop are missing a trick?
Yes for sure, when I do EDM sets and scratch its like a whole new world to the "anyone can mix House on a digital platform" DJ - I bet its the "next big thing" in an EDM DJ's cannon. The whole scene (in my opinion) is based on who you are, how you look and who you know rather than your DJ selection ability. It's a result of the "Love Island" social culture I personally have no affiliation or wish to associate with. Hello Hip Hop!
Waxnerds the label has really established itself as a high quality Hip Hop and B Boy breaks label. What is the label's ethos?
Generally its marshalled by label boss man Mark-One having the final say and the balls to tell one of us our edit is not a Waxnerds standard.
Going forward, what future plans does the label have?
I don't think there's an outright plan - the label is not for profit, its for self releasing quality tunes - if we have a good track or edit from one of the crew that should grace the beautiful 45 then we will make it so.
How many of the Waxnerds Crew can still bust a few moves on the dancefloor?
Ha ha! I believe Jamez Gant can proper bust moves, I was always a dancer however (despite my current interior self belief) beer and shit diet has hampered this!
The latest release by Waxnerds is a double header with Shoesy and Sam Tweaks delivering fine classic Hip Hop re-edits.
https://waxnerds.bandcamp.com/album/half-man-half-amazing-as-long-as-i-got-wu

Waxnerds can be found at
https://waxnerds.bandcamp.com/music
https://www.instagram.com/waxnerds45/
https://www.facebook.com/Waxnerd
Find quality music first with Trackhunter
Got some thoughts on this post? Share them in the comments below