Trackhunter Digital Music DJ Blog
The Trackhunter digital music DJ blog shares thoughts, tips, stories and ideas about all things digital music and DJing including things relevant to the digital music discovery app.
Interview with Richard Hardcastle aka Solid State
by Tat on Wednesday, March 13, 2019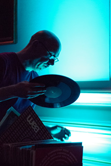 Entering his fourth decade of DJing, Richard hardcastle AKA Solid State is one of the UK's finest house music and disco selectors. An avid collector of vinyl whose tastes cross over from Krautrock to post punk, from disco to soulful house, he knows all about curating and building sublime sets. His passion to play out to crowds has not diminished one bit in those 30 or so years which has recently included playing a classic disco set at Spiritland to accompany a screening of the Studio 54 film. He can be seen most weeks playing some of Sheffield's hot spots such as Hope Works and the Southbank Warehouse. Hardcastle cut his teeth whilst as a young teenager in the early 1980s playing guitar in bands inspired by Sheffield's thriving music scene. Before long he was bitten by the DJ bug and took to the clubs and pirate airwaves establishing himself as a regular fixture of the house and revitalised disco movement. A return to music making was always on the cards as he's produced his own music under the alias of Solid State for such as Toko Records and his own imprint All Out War.
Read more..