Trackhunter Digital Music DJ Blog
The Trackhunter digital music DJ blog shares thoughts, tips, stories and ideas about all things digital music and DJing including things relevant to the digital music discovery app.
The best UK dance and electronic festivals for 2018
by Tat on Wednesday, May 9, 2018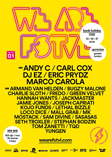 I sit writing this latest Trackhunter blog post whilst finding myself in a steaming hot room at the back of my house looking out onto a sunny garden and thinking of summer festivals. Each year the dance music summer calendar gets stronger and stronger with more eye catching events set under a canopy of open skies. Since the days of the illegal raves, Glastonbury dance tent and other pop up parties, the summer calendar has been illuminated by parties that continue to go to the next level. So we thought it would be a good idea to once again cast out our net for the finest festival feasts in the UK to quench your dance music thirst.
Read more..